ZFIN ID: ZDB-FIG-120727-24
Niu et al., 2012
- Sec13 safeguards the integrity of the endoplasmic reticulum and organogenesis of the digestive system in zebrafish. Developmental Biology 367(2):197-207
Full text @ Dev. Biol.
EXPRESSION / LABELING:
| | |
| --- | --- |
| Genes: | |
| Antibodies: | |
| Fish: | |
| Anatomical Terms: | |
| Stage: | Day 5 |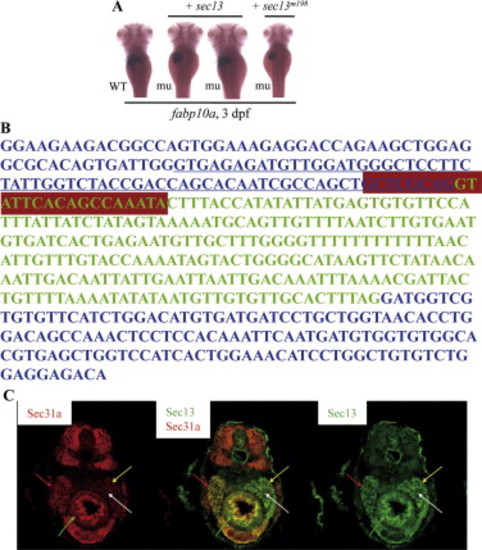 Fig. S5 Rescue and mimicking of sec13m198 mutant phenotype. (A) Injection of the wildtype sec13 mRNA (+ sec13) but not the mutant mRNA (+ sec13m198) could fully or partially rescue the sec13m198 small liver phenotype when examined with an fabp10a probe on embryos 3 days post-injection. WT: wildtype; mu: mutant. (B) Injection of the sec13 splicing blocking morpholino sp2 resulted in a transcript with 66 nucleotides deletion originated from exon 7 (underlined sequence). Total RNA for RT-PCR was extracted from embryos at 3 dpf.RT-PCR product was then sequenced. Exons 7 and 8 of sec13 are in blue letters while intron 7 is in green. sp2 targeting sequence is boxed in purple. st: standard control morpholino; MO: sp2 morphant; MW: molecular weight. (C) Sec13 and Sec31a are co-localized in digestive organs. Immunofluorescence staining analysis using an anti-Sec13 mouse serum (panel on the right, green) and an anti-SEC31a rabbit serum (panel on the left, red) showed that Sec13 and Sec31A expression are co-localized in major digestive organs in 5 dpf embryos (panel in the middle). Red arrow: liver; yellow arrow: exocrine pancreas; white arrow: endocrine pancreas; green arrow: intestine.
Antibody Labeling Details
No data available
Phenotype Details
No data available
Acknowledgments:
ZFIN wishes to thank the journal Developmental Biology for permission to reproduce figures from this article. Please note that this material may be protected by copyright.

Reprinted from Developmental Biology, 367(2), Niu, X., Gao, C., Jan Lo, L., Luo, Y., Meng, C., Hong, J., Hong, W., and Peng, J., Sec13 safeguards the integrity of the endoplasmic reticulum and organogenesis of the digestive system in zebrafish, 197-207, Copyright (2012) with permission from Elsevier. Full text @ Dev. Biol.