ZFIN ID: ZDB-FIG-110929-31
EXPRESSION / LABELING:
Gene:
Fish:
Condition:
Anatomical Terms:
Stage Range:

Prim-5

to

Prim-25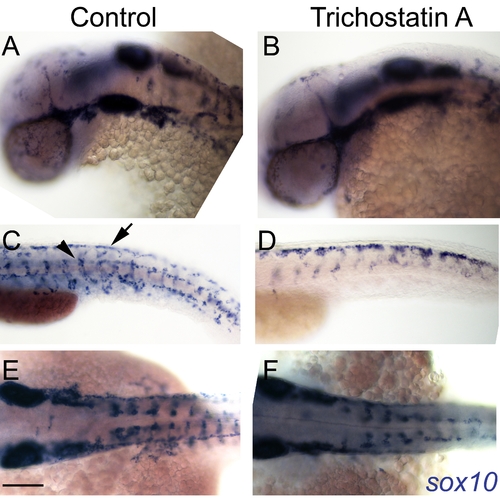 Fig. S5
Hdac-dependent derepression of sox10 expression is not seen in mitfa mutant embryos. A–F) In situ hybridisation with sox10 probe showing similar levels of sox10 expression in premigratory (arrow, C) and migrating (arrowhead, C) neural crest cells of mitfa mutants whether treated with 1 μM Trichostatin A from 24–48 hpf (B,D,F) or in stage-matched 36 hpf DMSO control mitfa mutants (A,C,E). Compare effect in WT embryos shown in Figure 8. Scale bar: 100 μm.
Antibody Labeling Details
No data available
Phenotype Details
No data available
Acknowledgments:
ZFIN wishes to thank the journal PLoS Genetics for permission to reproduce figures from this article. Please note that this material may be protected by copyright. Full text @ PLoS Genet.