ZFIN ID: ZDB-FIG-100802-27
Macdonald et al., 2010
- The relationship between dlx and gad1 expression indicates highly conserved genetic pathways in the zebrafish forebrain. Developmental dynamics : an official publication of the American Association of Anatomists 239(8):2298-2306
Full text @ Dev. Dyn.
EXPRESSION / LABELING:
| | |
| --- | --- |
| Genes: | |
| Fish: | |
| Anatomical Terms: | |
| Stage: | Long-pec |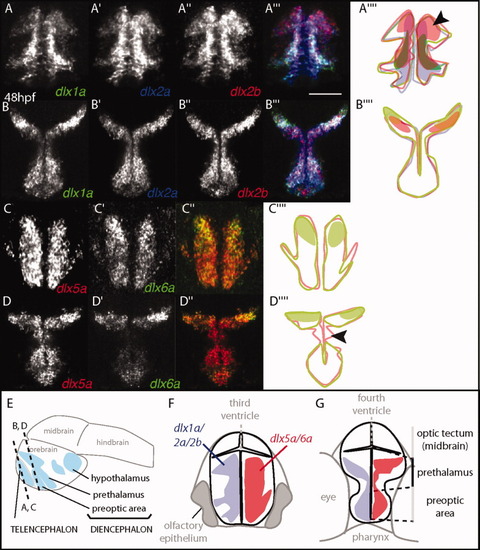 Fig. 1 Similar forebrain expression of the two genes from a dlx cluster. A-D″: Single z transverse sections of triple fluorescent in situ hybridization shows dlx1a, dlx2a, and dlx2b expression domains at 48 hours postfertilization (hpf) in the telencephalon (A-A′″) and diencephalon (B,B′″), as well as dlx5a and dlx6a (C,C′″ and D-D′″). Schematic summaries representing the overlaps in dlx expression are shown in A″″, B″″, C″″, and D″″; the solid lines define the boundaries of detectable expression; the zones of relatively higher expression are colored when applicable. The boundaries of expression domains are comparable for dlx1a, dlx2a, and dlx2b, but dlx2b specifically displays a more intense zone of expression in a dorsal-lateral domain (arrow in A″″). Boundaries of expression domains for dlx5a and dlx6a are overall similar although dlx6a was hardly detected in the ventral domain of the prethalamus (arrowhead on D″″). E: Levels of section are shown on the schematic. Shared expression domains of clustered genes (and their paralogs) are mapped on a schematic representation of a brain section at the level of the telencephalon (F) and of the diencephalon (G): dlx1a/2a/2b in blue and dlx5a/6a in red. Scale bar = 100 μm.
Antibody Labeling Details
No data available
Phenotype Details
No data available
Acknowledgments:
This image is the copyrighted work of the attributed author or publisher, and ZFIN has permission only to display this image to its users. Additional permissions should be obtained from the applicable author or publisher of the image. Full text @ Dev. Dyn.