ZFIN ID: ZDB-FIG-100616-94
EXPRESSION / LABELING:
Gene:
Antibody:
Fish:
Knockdown Reagent:
Anatomical Term:
Stage Range:

Long-pec

to

Day 5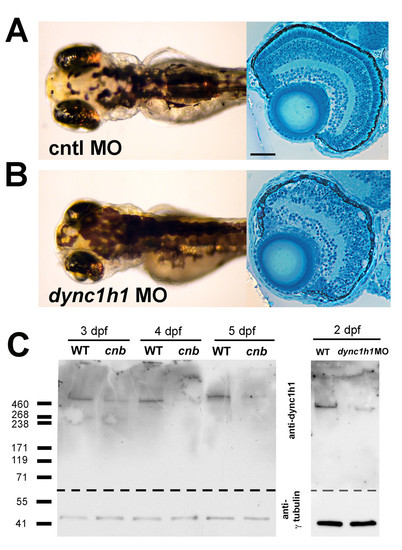 Fig. 3 Morpholino knock-down of dync1h1 phenocopies cnb mutants. (A, B) Dorsal views and retinal histology of control (cntl) morpholino (MO) injected (A) and dync1h1 ATG MO injected (B) embryos shown at 3.5 dpf. Note the smaller eyes, expanded melanophores, and photoreceptor dysmorphogenesis. (C) Western blot of wild-type (WT) versus cnb embryos at 3, 4, and 5 dpf (left blot) and wild-type and dync1h1 morphants at 2 dpf (right blot). Each blot was cut and probed with either antisera against human DYNC1H1 (amino-terminal 321 amino acids; top) or gammaTubulin (bottom). Scale bar: 40 μm for retinal histology.
Antibody Labeling Details
No data available
Acknowledgments:
This image is the copyrighted work of the attributed author or publisher, and ZFIN has permission only to display this image to its users. Additional permissions should be obtained from the applicable author or publisher of the image. Full text @ Neural Dev.