ZFIN ID: ZDB-FIG-100616-104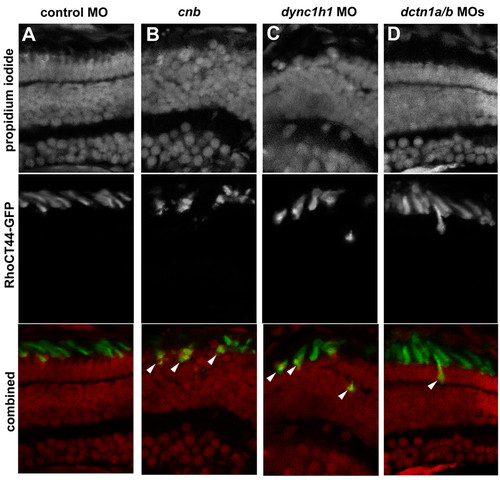 Fig. 13 Efficient transport of Rhodopsin(CT44)-GFP to the outer segment is disrupted with loss of Dync1h1 or Dctn1. Cryosections of 3.5-dpf retina from transgenic Tg(1.3xops:xRhoCT44-GFP) embryos in which the carboxy-terminal 44 amino acids of Rhodopsin are fused with GFP. Localization of GFP was evaluated in photoreceptors from (A) control morphants, (B) cnb mutants, (C) dync1h1 morphants or (D) dctn1a/b morphants. Upper row shows propidium iodide staining to highlight nuclei. Middle row shows RhoCT44-GFP. Bottom row shows color combined images. Arrowheads indicate cells with mislocalized GFP to the cell body region.
Antibody Labeling Details
No data available
Acknowledgments:
This image is the copyrighted work of the attributed author or publisher, and ZFIN has permission only to display this image to its users. Additional permissions should be obtained from the applicable author or publisher of the image. Full text @ Neural Dev.