ZFIN ID: ZDB-FIG-100416-4
EXPRESSION / LABELING:
Genes:
Fish:
Knockdown Reagent:
Anatomical Term:
Stage Range:

Prim-5

to

Prim-25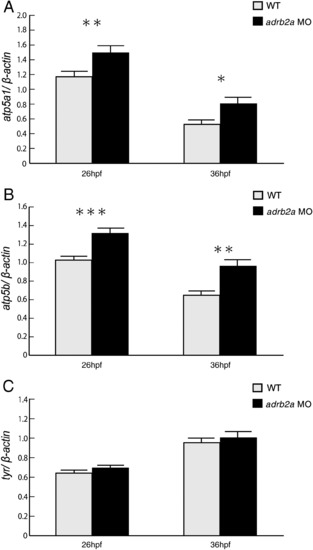 Fig. 5 Effects of adrb2a knock-down on atp5a1, atp5b, and tyr mRNA expression. MOs were injected into 1–4-cell stage embryos. The mRNA expression in wild-type embryos and in embryos injected with adrb2a MOs was quantified by qPCR at 26 and 36 hpf as the hypopigmentation phenotype induced by adrb2a MOs became identifiable at 36 hpf. (A) atp5a1 mRNA expression. (B) atp5b mRNA expression. (C) tyr mRNA expression. Data are presented as the means ± SEM of 12 independent experiments, after normalization to the expression of β-actin. ∗P < 0.05; ∗∗P < 0.01; ∗∗∗P < 0.001.
Antibody Labeling Details
No data available
Phenotype Details
No data available
Acknowledgments:
ZFIN wishes to thank the journal Gene for permission to reproduce figures from this article. Please note that this material may be protected by copyright.

Reprinted from Gene, 446(1), Wang, Z., Nishimura, Y., Shimada, Y., Umemoto, N., Hirano, M., Zang, L., Oka, T., Sakamoto, C., Kuroyanagi, J., and Tanaka, T., Zebrafish beta-adrenergic receptor mRNA expression and control of pigmentation, 18-27, Copyright (2009) with permission from Elsevier. Full text @ Gene