ZFIN ID: ZDB-FIG-090501-20
EXPRESSION / LABELING:
Genes:
Antibody:
Fish:
Knockdown Reagents:
Anatomical Terms:
Stage Range:

90%-epiboly

to

Prim-25
PHENOTYPE:
| | |
| --- | --- |
| Fish: | |
| Knockdown Reagents: | |
| Observed In: | |
| Stage: | Prim-5 |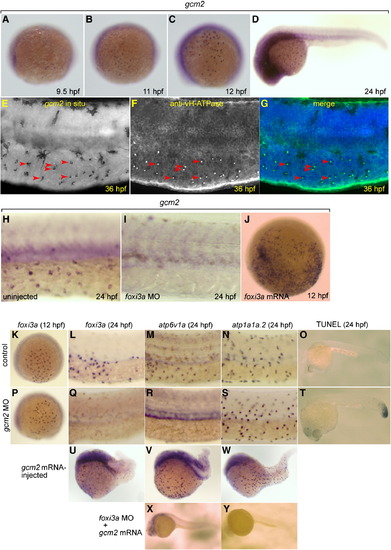 Fig. 5 Expression of gcm2 in vH-MRC and under the influence of foxi3a. (A–D) Whole mount in situ hybridization with gcm2 probe at 9.5 hpf (A), 11 hpf (B), 12 hpf (C), and 24 hpf (D). (E–G) Co-staining of gcm2 (E, in situ hybridization) and vH-ATPase (F, immunostaining), and their merged image (G). gcm2-positive cells (arrowheads in E) completely overlap with vH-MRCs (arrowheads in F). (H, I) Whole mount in situ hybridization with gcm2 probe at 24 hpf of uninjected wild-type control (H), and foxi3a morphant (I). (J) Whole mount in situ hybridization with gcm2 probe at 12 hpf of foxi3a mRNA-injected embryo. (K–N, P–S, U–Y) Whole mount in situ hybridization with (i) foxi3a probe at 12 hpf (K, P) and 24 hpf (L, Q, U), (ii) atp6v1a probe at 24 hpf (M, R, V, X), and (iii) atp1a1a.2 probe at 24 hpf (N, S, W, Y) of uninjected wild-type controls (K–O), gcm2 morphants (P–T), gcm2 mRNA-injected embryos (U–W), and foxi3a morphant injected with gcm2 mRNA (X, Y). (O, T) TUNEL assay of control (O) and gcm2 MO-injected (T) embryos. Injection of gcm2 MO induced apoptosis in the tail region but not in the natural ionocyte domains (T). The densities of vH-MRC and NaK-MRC seem to be slightly increased by gcm2 mRNA injection (V, W) if compared with controls (Figs. 2G, H), but it is difficult to draw a definite conclusion because of morphogenetic defects caused by misexpression of gcm2.
Antibody Labeling Details
Acknowledgments:
ZFIN wishes to thank the journal Developmental Biology for permission to reproduce figures from this article. Please note that this material may be protected by copyright.

Reprinted from Developmental Biology, 329(1), Esaki, M., Hoshijima, K., Nakamura, N., Munakata, K., Tanaka, M., Ookata, K., Asakawa, K., Kawakami, K., Wang, W., Weinberg, E.S., and Hirose, S., Mechanism of development of ionocytes rich in vacuolar-type H(+)-ATPase in the skin of zebrafish larvae, 116-129, Copyright (2009) with permission from Elsevier. Full text @ Dev. Biol.