ZFIN ID: ZDB-FIG-090113-27
EXPRESSION / LABELING:
| | |
| --- | --- |
| Antibodies: | |
| Fish: | |
| Knockdown Reagents: | |
| Anatomical Terms: | |
| Stage: | 5-9 somites |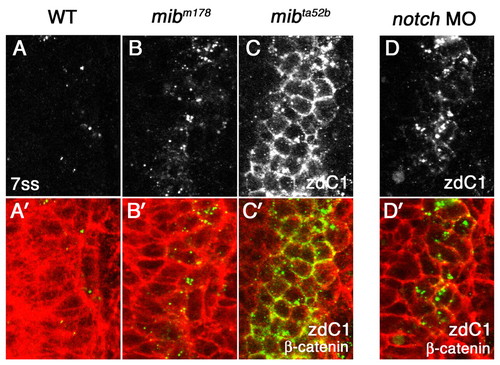 Fig. 7 Mib1, Notch1a and Notch3 are not essential for DeltaC endocytosis. (A-C′) Distribution of DeltaC in wild-type zebrafish embryos (A,A′) and in two mib alleles, mibm178 (B,B′) and mibta5ab (C,C′). (D,D′) Distribution of DeltaC in Notch MO embryos. Eight-somite stage embryos were double stained with zebrafish DeltaC antibody zdC1 (grey in A-D, green in A′-D′) and β-catenin (red in A′-D′). A dorsal view of a lateral neurogenic domain in the caudal neural plate is shown. In WT embryos, only subset of cells express DeltaC in cytoplasmic puncta (A,A′). A neurogenic phenotype allows more cells to express DeltaC in both mib mutants and Notch MO embryos as Notch signaling is reduced (B-D). However, DeltaC distribution remains cytoplasmic in mibm178 (B,B′) and Notch MO embryos (D,D′), and it only accumulates on the cell surface in mibta52b mutant embryos (C,C′).
Gene Expression Details
No data available
Antibody Labeling Details
Phenotype Details
No data available
Acknowledgments:
This image is the copyrighted work of the attributed author or publisher, and ZFIN has permission only to display this image to its users. Additional permissions should be obtained from the applicable author or publisher of the image. Full text @ Development