ZFIN ID: ZDB-FIG-081117-4
EXPRESSION / LABELING:
Genes:
Fish:
Conditions:
Knockdown Reagent:
Anatomical Terms:
Stage Range:

Prim-5

to

Prim-15
PHENOTYPE:
Fish:
Condition:
Knockdown Reagent:
Observed In:
Stage Range:

Prim-5

to

Prim-15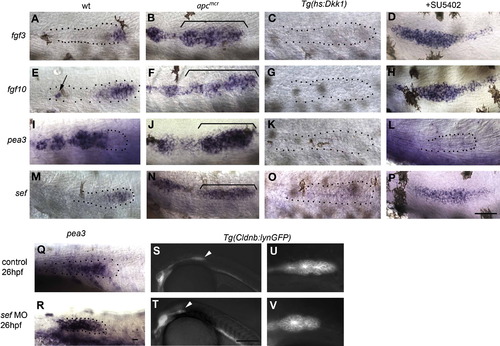 Fig. 3 Wnt/β-Catenin Signaling Regulates Fgf Signaling in the Migrating Primordium
(A–H) fgf3 and fgf10 are restricted to the leading zone of (A and E) WT primordia and are upregulated in (B and F) apcmcr mutant primordia. (C and G) Their expression is lost in the absence of Wnt/β-catenin signaling. (D and H) fgf3 and fgf10 are upregulated in the absence of Fgf signaling.
(I) pea3 expression in WT primordia shows that Fgf signaling is only active in the trailing cells.
(J and K) pea3 is expanded in 38 hpf (J) apcmcr mutants and lost in (K) Tg(hs:Dkk1) embryos.
(L) pea3 expression is abolished by SU5402 treatment.
(M) The Fgf pathway inhibitor sef is expressed in the leading zone of WT primordia.
(N and O) sef expression is expanded in (N) apcmcr mutants and abolished in (O) Tg(hs:Dkk1) embryos.
(P) sef expression does not require Fgf signaling, as it is present in SU5402-treated primordia.
(Q–V) (S and T) Injection of sef morpholino (MO) disrupts primordium migration, (U and V) although the primordia orient correctly toward the posterior. (Q and R) pea3 expression expands into the leading region of sef morphant primordia. WT, apcmcr, and SU5402-treated embryos were fixed between 32 and 36 hpf, Tg(hs:Dkk1) embryos were heat shocked at 26 hpf and fixed at 32 hpf, and sef morphant embryos were fixed at 26 hpf.
Brackets in (B), (F), (G), and (N) indicate the primordium. Scale bars in (A)–(P) and (Q), (R), (U), and (V) are equal to 40 μM. Scale bars for (S) and (T) equal 100 μM.
Antibody Labeling Details
No data available
Acknowledgments:
This image is the copyrighted work of the attributed author or publisher, and ZFIN has permission only to display this image to its users. Additional permissions should be obtained from the applicable author or publisher of the image.

Reprinted from Developmental Cell, 15(5), Aman, A., and Piotrowski, T., Wnt/beta-catenin and Fgf signaling control collective cell migration by restricting chemokine receptor expression, 749-761, Copyright (2008) with permission from Elsevier. Full text @ Dev. Cell