ZFIN ID: ZDB-FIG-080715-32
Liu et al., 2008
- In vivo time-lapse imaging delineates the zebrafish pituitary proopiomelanocortin lineage boundary regulated by FGF3 signal. Developmental Biology 319(2):192-200
Full text @ Dev. Biol.
EXPRESSION / LABELING:
| | |
| --- | --- |
| Gene: | |
| Fish: | |
| Knockdown Reagent: | |
| Anatomical Term: | |
| Stage: | Prim-25 |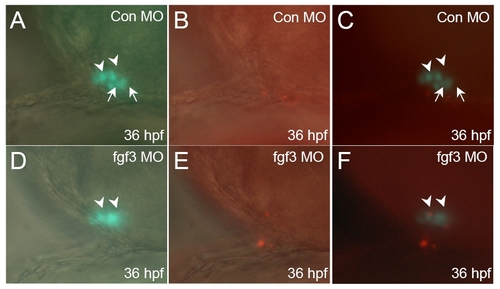 Fig. S3 Hypomorphic fgf3 knock down do not inhibit POMC-GFP cell proliferation. Developmental stages are indicated at bottom right corner of each panel. (A-C) standard control MO injection. (D-F) fgf3 MO injection. DIC images of pituitary ventral-lateral views superimposed with fluorescent images of POMC-GFP expression (A and D), or BrdU immunostain in red (B and E). Fluorescent images of POMC-GFP superimposed with BrdU labeled cell in red show no inhibition of POMC-GFP cell proliferation in hypomorphic FGF3 morphants (F) compared with embryos injected with standard control MO (C) . Scale bar, 50 μm. All ventral-lateral view; top, anterior; right, dorsal; arrowhead: anterior-most POMC cells; arrow: lateral-posterior POMC cells.
Antibody Labeling Details
No data available
Phenotype Details
No data available
Acknowledgments:
ZFIN wishes to thank the journal Developmental Biology for permission to reproduce figures from this article. Please note that this material may be protected by copyright.

Reprinted from Developmental Biology, 319(2), Liu, N.A., Ren, M., Song, J., Ríos, Y., Wawrowsky, K., Ben-Shlomo, A., Lin, S., and Melmed, S., In vivo time-lapse imaging delineates the zebrafish pituitary proopiomelanocortin lineage boundary regulated by FGF3 signal, 192-200, Copyright (2008) with permission from Elsevier. Full text @ Dev. Biol.