ZFIN ID: ZDB-FIG-061201-3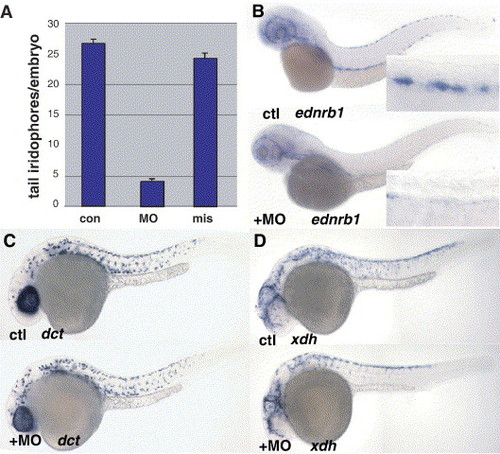 Fig. 5 MO knockdown: pigment cell differentiation markers, in situ hybridizations. (A) Histogram of tail iridophore counts. Both MOs were injected at 2 mg/ml. The mean number of tail iridophores per embryo ± SEM are depicted for uninjected (n = 60), morpholino injected (n = 107), and mismatch morpholino injected (n = 83). (B) Presumptive iridophores expressing ednrb1 (endothelin receptor b1) are absent from Foxd3 morpholino-injected embryos. (C) Melanoblast marker dct (dopachrome tautomerase) is unaffected. (D) Xanthoblast marker xdh (xanthine dehydrogenase) is slightly reduced in the trunk.
Antibody Labeling Details
No data available
Phenotype Details
No data available
Acknowledgments:
ZFIN wishes to thank the journal Developmental Biology for permission to reproduce figures from this article. Please note that this material may be protected by copyright.

Reprinted from Developmental Biology, 290(1), Lister, J.A., Cooper, C., Nguyen, K., Modrell, M., Grant, K., and Raible, D.W., Zebrafish Foxd3 is required for development of a subset of neural crest derivatives, 92-104, Copyright (2006) with permission from Elsevier. Full text @ Dev. Biol.