ZFIN ID: ZDB-FIG-060823-8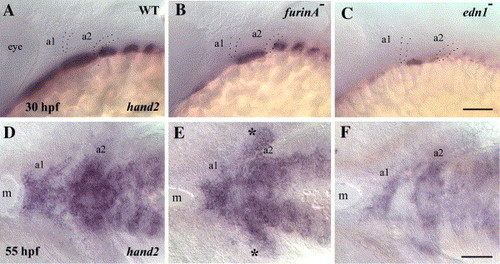 Fig. 7  furinA is required for early but not late edn1-dependent hand2 expression. Lateral views of hand2 expression in wild-type (A), furinA mutant (B), and edn1 mutant (C) embryos at 30 hpf. Ventral views at 55 hpf (D–F). At 30 hpf, hand2 expression in furinA is strongly reduced in the first arch and moderately reduced in the second arch but recovers in both arches by 55 hpf. hand2 expression in edn1 mutants is strongly reduced in both arches at 30 and 55 hpf. a1 and a2 label pharyngeal arch 1 and 2. Dotted lines label pharyngeal pouches 1 and 2. Asterisks in panel E mark ectopic expression of hand2 in the second arch in furinA mutants at 55 hpf. m, mouth. Scale bars: 50 μm.
Antibody Labeling Details
No data available
Phenotype Details
No data available
Acknowledgments:
ZFIN wishes to thank the journal Developmental Biology for permission to reproduce figures from this article. Please note that this material may be protected by copyright.

Reprinted from Developmental Biology, 295(1), Walker, M.B., Miller, C.T., Talbot, J.C., Stock, D.W., and Kimmel, C.B., Zebrafish furin mutants reveal intricacies in regulating Endothelin1 signaling in craniofacial patterning, 194-205, Copyright (2006) with permission from Elsevier. Full text @ Dev. Biol.