ZFIN ID: ZDB-FIG-051228-10
Solnica-Krezel et al., 1996
- Mutations affecting cell fates and cellular rearrangements during gastrulation in zebrafish. Development (Cambridge, England) 123:67-80
EXPRESSION / LABELING:
Genes:
Fish:
Anatomical Terms:
Stage Range:

Bud

to

Prim-5
PHENOTYPE:
Fish:
Observed In:
Stage Range:

Bud

to

Prim-5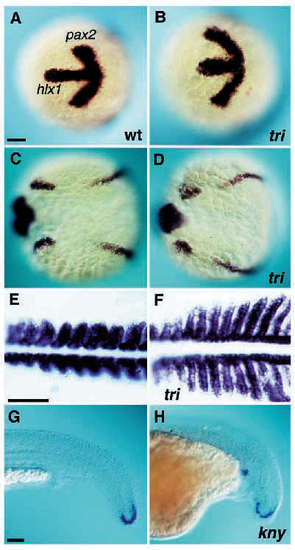 Fig. 9 Changes in expression patterns of cell type and region-specific genes in mutants affected in convergence and extension. (A,C,E,G) Wild type (wt); (B,D,F) trim209 and (H) knym119 mutant embryos. (A,B) Expression of hlx1 and pax2 mRNA at the tail bud stage, view of developing head region. Anterior is towards the left. (C,D) Expression of pax2 at the tail bud stage. Dorsal view. (E,F) Expression of myoD mRNA at the 10 somite stage. Dorsal view, anterior toward the left. (G,H) Expression of eve1 mRNA in tail at 1 dpf. Note ectopic expression in the mutant embryo. Scale bar, 0.1 mm.
Antibody Labeling Details
No data available
Acknowledgments:
This image is the copyrighted work of the attributed author or publisher, and ZFIN has permission only to display this image to its users. Additional permissions should be obtained from the applicable author or publisher of the image.