ZFIN ID: ZDB-FIG-220527-3
PHENOTYPE:
| | |
| --- | --- |
| Fish: | |
| Observed In: | |
| Stage: | Adult |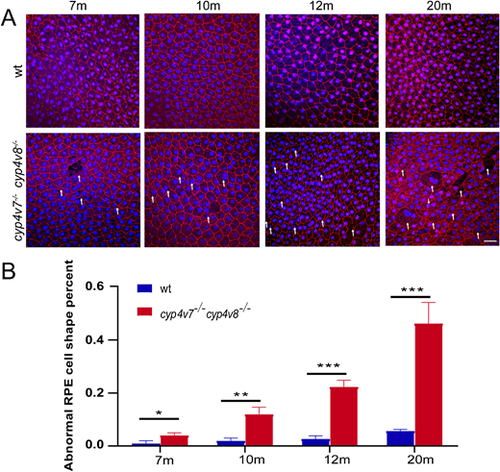 Fig. 3
Abnormal morphologic characteristics of RPE cells in cyp4v7/cyp4v8 DKO zebrafish. (A) Immunofluorescence analysis of flat-mounted eyecups from WT and cyp4v7−/−cyp4v8−/− zebrafish at 7, 10, 12, and 20 months after fertilization using the anti-ZO-1 antibody. We defined the loss of hexagonal cellular architecture and junctional integrity cells as abnormal RPE cells. White arrows indicate the abnormal RPE cells. Scale bar: 20 µm. (B) The numbers of abnormal RPE cells were quantified for each of the images. The results are shown as mean ± SD. ***P < 0.001; **P < 0.01; *P < 0.05.
Gene Expression Details
No data available
Antibody Labeling Details
No data available
Acknowledgments:
This image is the copyrighted work of the attributed author or publisher, and ZFIN has permission only to display this image to its users. Additional permissions should be obtained from the applicable author or publisher of the image. Full text @ Invest. Ophthalmol. Vis. Sci.