ZFIN ID: ZDB-FIG-200116-6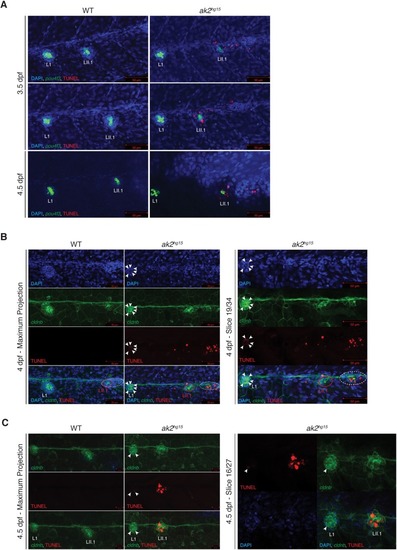 Fig. 6.
Increased cell death in the otic vesicles and the PLL of ak2hg15 embryos. (A) Maximum projections of 3.5 and 4.5 dpf ak2hg15 embryos and their control siblings in the Tg(pou4f3:GAP-GFP) background (indicated as pou4f3) stained with TUNEL assays (red signal). (B,C) Maximum projections (left panels) and representative single plane confocal analysis (right panels) at 4 (B) and 4.5 (C) dpf of a TUNEL assay (red signal) performed on ak2hg15 embryos and their siblings in the Tg(-8.0cldnb:LY-EGFP) background (cldnb, green) labeling the migrating secondary primordium (dashed ellipse), deposited primary and secondary (red circle) neuromasts and epithelial cells. White arrowheads label TUNEL-positive cells in the L1 primary neuromast. Nuclei are labeled with DAPI (blue). Scale bars: 50 µm (A,B); 20 µm (C).
Gene Expression Details
No data available
Antibody Labeling Details
No data available
Acknowledgments:
This image is the copyrighted work of the attributed author or publisher, and ZFIN has permission only to display this image to its users. Additional permissions should be obtained from the applicable author or publisher of the image. Full text @ Dis. Model. Mech.