ZFIN ID: ZDB-FIG-140626-12
Okigawa et al., 2014
- Different combinations of Notch ligands and receptors regulate V2 interneuron progenitor proliferation and V2a/V2b cell fate determination. Developmental Biology 391(2):196-206
Full text @ Dev. Biol.
EXPRESSION / LABELING:
| | |
| --- | --- |
| Gene: | |
| Fish: | |
| Knockdown Reagents: | |
| Anatomical Terms: | |
| Stage: | Prim-5 |
PHENOTYPE:
| | |
| --- | --- |
| Fish: | |
| Knockdown Reagents: | |
| Observed In: | |
| Stage: | Prim-5 |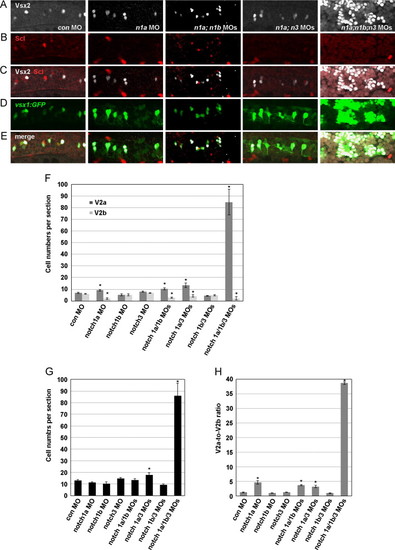 Fig. 5 Notch1a is mainly required for the V2a/b fate decision, and Notch1a, Notch1b, and Notch3 are redundant for p2 progenitor cell maintenance. (A–G) Increased V2a and decreased V2b cell numbers were seen in notch1a, notch1a/notch1b, notch1a/notch3, and notch1a/notch1b/notch3, but not in notch1b, notch3, or notch1b/notch3 knockdown embryos. V2a and V2b cells were identified as vsx1:GFP/Vsx2 double positive- and vsx1:GFP/Scl double positive-cells, respectively. (A–E) side views of embryos at 24 hpf with anterior to the left, dorsal up. Bar scale: 50 µm. (F) V2a and V2b cell numbers per section. (G) Total V2 cell numbers (V2a+V2b) per section in notch knockdown embryos. (H) V2a-to-V2b ratio in notch knockdown embryos. (F–H) Control MO, n=21; notch1a MO, n=16; notch1b MO, n=9; notch3 MO, n=8; notch1a/notch1b MOs, n=19; notch1a/notch3 MOs, n=7; notch1b/notch3 MOs, n=12; notch1a/notch1b/notch3 MOs, n=14. Asterisks indicate statistically significant differences relative to the control (p<0.005). Error bars, SEM.
Antibody Labeling Details
No data available
Acknowledgments:
ZFIN wishes to thank the journal Developmental Biology for permission to reproduce figures from this article. Please note that this material may be protected by copyright.

Reprinted from Developmental Biology, 391(2), Okigawa, S., Mizoguchi, T., Okano, M., Tanaka, H., Isoda, M., Jiang, Y.J., Suster, M., Higashijima, S.I., Kawakami, K., Itoh, M., Different combinations of Notch ligands and receptors regulate V2 interneuron progenitor proliferation and V2a/V2b cell fate determination, 196-206, Copyright (2014) with permission from Elsevier. Full text @ Dev. Biol.