ZFIN ID: ZDB-FIG-111026-15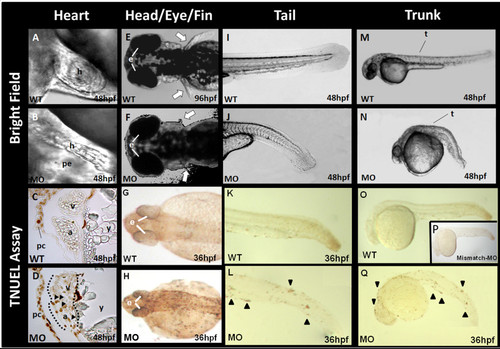 Fig. 1
Morphological changes and the TUNEL assay of tbx5 knockdown embryos. A: In wild-type (WT) embryos, the atrium and ventricle overlap due to normal looping formation. The heart is located in the cardiac sac. B: In tbx5 knockdown embryos, a string-like cardiac morphology was observed, with no looping formation. Most of the cardiac sac was occupied by pericardial effusion. C: No apoptosis was observed in the atria or ventricle of WT embryos, but a little apoptosis was noted in the pericardium. D: Apoptosis occurred in the heart of tbx5 knockdown embryos accompanied by significant apoptosis in the pericardium. E-F: Symmetrical development of bilateral pectoral fins was observed in WT embryos (E); however, pectoral fins of tbx5 deficient embryos were hypoplasia (F). G: Trivial apoptosis was observed in the eyes, head, and the bilateral paravertebral mesenchymal region of WT embryos. H-J: Prominent apoptosis was detected in knockdown embryos (H). Compared to WT embryos (I, M), a shortened and curled malformed trunk was present in tbx5 knockdown embryos (J, N). K-Q: Prominent apoptosis was located along the curled tail (L) and trunk (Q) of tbx5 deficiency embryos, while normal embryos and mismatch-tbx5-MO injected embryos had a straight tail (K) and trunk (O, P). A-Q: The anterior of the embryos is to the left. A-B, I-Q: Lateral view; E-F: dorsal view; G-H: anterior view; C, D: Sagittal section. h, heart; pe, pericardial effusion; a, atrium; v, ventricle; y, yolk; t, trunk; white arrow, pectoral fin; black triangle, location of apoptosis; hpf, hour post fertilization; MO, tbx5-MO treated embryos.
Gene Expression Details
No data available
Antibody Labeling Details
No data available
Acknowledgments:
ZFIN wishes to thank the journal Journal of Biomedical Science for permission to reproduce figures from this article. Please note that this material may be protected by copyright. Full text @ J. Biomed. Sci.