ZFIN ID: ZDB-FIG-111013-5
Your Input Welcome
Thank you for submitting comments. Your input has been emailed to ZFIN curators who may contact you if additional information is required.
Oops. Something went wrong. Please try again later.
Grandel et al., 2000
- dackel acts in the ectoderm of the zebrafish pectoral fin bud to maintain AER signaling. Development (Cambridge, England) 127(19):4169-4178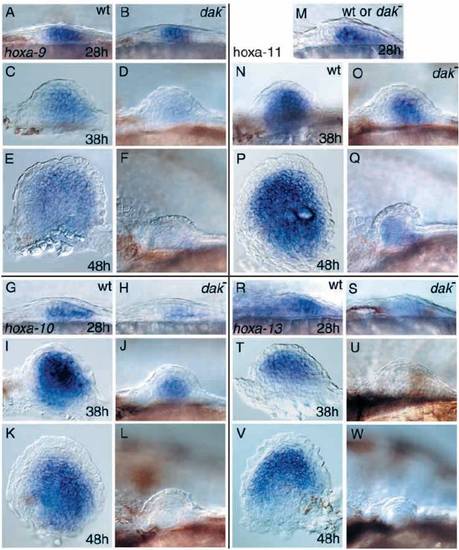 Fig. 6 Expression of hoxa genes at 28 h (A,B,G,H,M,R,S), 38 h (C,D,I,J,N,O,T,U) and 48 h (E,F,K,L,P,Q,V,W). Anterior is towards the left, distal is towards the top. (A,C,E,G,I,K,N,P,R,T,V) wt and (B,D,F,H,J,L,O,Q,S,U,W) dak-. (M) dak- and wt are indistinguishable. (A-F) expression of hoxa9. (G-L) expression of hoxa-10. (M-Q) expression of hoxa-11. (R-W) expression of hoxa13. hoxa9 and hoxa10 are lost at 48 h, while slight hoxa11 and hoxa13 expression may still be detectable
Antibody Labeling Details
No data available
Phenotype Details
No data available
Acknowledgments:
ZFIN wishes to thank the journal Development (Cambridge, England) for permission to reproduce figures from this article. Please note that this material may be protected by copyright.