ZFIN ID: ZDB-FIG-091016-29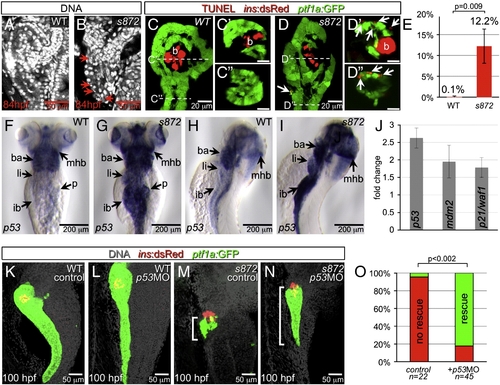 Fig. 4 Acinar cell death in dnmt1 mutants occurs in part by p53-dependent apoptosis. (A, B) DRAQ5 staining of DNA in 84 hpf WT (A) and dnmt1s872 mutant (B) larvae. Pyknotic nuclei (arrows) are frequently observed in the pancreas of dnmt1 mutants, but not WT. (C, D) Apoptosis detection by TUNEL labeling of 84 hpf WT (C) and dnmt1 mutant (D) larvae in Tg(ptf1a:EGFP)jh1; Tg(ins:dsRed)m1081 background. C′/C″ and D′/D″ are transverse sections of similar samples at the approximate planes indicated in panels C and D, respectively. (E) Quantification of TUNEL+ acinar cells. (F–I) Expression of p53 mRNA in WT (F, H) and dnmt1s872 mutants (G, I); expression appears dramatically increased in mutants. (J) Fold-change of p53 and target genes mdm2 and p21/waf1 in dnmt1s872 mutants vs. WT by real-time RT-PCR. (K–N) 100 hpf WT (K, L) and dnmt1s872 mutant (M, N) larvae, which are either uninjected controls (K, M) or p53 morpholino-injected (p53MO; L, N). p53MO-injected dnmt1s872 mutants show increased persistence of acinar tissue. (O) More than 82% of p53MO-injected dnmt1s872 mutants showed rescue (green); n = 22 (control), n = 45 (p53MO). Error bars = SEM. Significance assessed by Student′s t-test.
Antibody Labeling Details
No data available
Acknowledgments:
ZFIN wishes to thank the journal Developmental Biology for permission to reproduce figures from this article. Please note that this material may be protected by copyright.

Reprinted from Developmental Biology, 334(1), Anderson, R.M., Bosch, J.A., Goll, M.G., Hesselson, D., Dong, P.D., Shin, D., Chi, N.C., Shin, C.H., Schlegel, A., Halpern, M., and Stainier, D.Y., Loss of Dnmt1 catalytic activity reveals multiple roles for DNA methylation during pancreas development and regeneration, 213-223, Copyright (2009) with permission from Elsevier. Full text @ Dev. Biol.