ZFIN ID: ZDB-FIG-090710-27
Wong et al., 2009
- Identification of vasculature-specific genes by microarray analysis of etsrp/etv2 overexpressing zebrafish embryos. Developmental dynamics : an official publication of the American Association of Anatomists 238(7):1836-1850
Full text @ Dev. Dyn.
EXPRESSION / LABELING:
| | |
| --- | --- |
| Gene: | |
| Fish: | |
| Knockdown Reagents: | |
| Anatomical Terms: | |
| Stage: | Prim-5 |
| Probe: | MGC:77517 |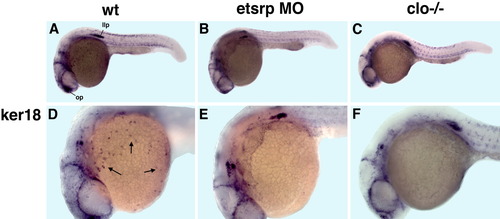 Fig. 6 A-F: Expression of keratin18 (ker18) in control wild-type embryos (A,D), etsrp morphants (B,E), and homozygous cloche mutant embryos (C,F) at 24 hours postfertilization (hpf). Lateral view, anterior is to the left. A-C: Ker18 expression in epidermal cells, neural cells including the lateral line primordia and olfactory placodes is not affected in etsrp morphants and clo mutants. Note that ker18 expression is apparent within the superficial epidermal tissue and no vascular-specific staining is observed at these stages. D-F: However, multiple ker18-expressing cells that are located on top of the yolk and apparently correspond to the myeloid cells (arrows, D), are absent in etsrp morphants and clo mutants (D-F).
Antibody Labeling Details
No data available
Phenotype Details
No data available
Acknowledgments:
ZFIN wishes to thank the journal Developmental dynamics : an official publication of the American Association of Anatomists for permission to reproduce figures from this article. Please note that this material may be protected by copyright. Full text @ Dev. Dyn.