ZFIN ID: ZDB-FIG-081205-11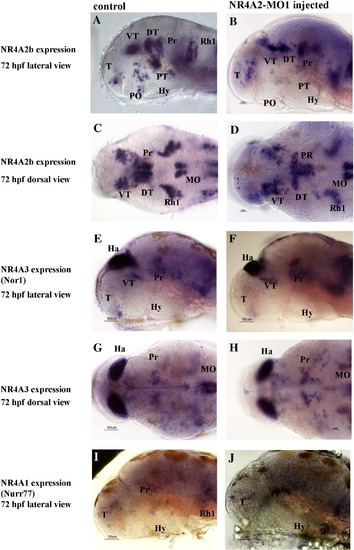 Fig. SD8 NR4A gene expression in morphant and control larvae. NR4A2b (A–D), NR4A3 (E–H) and NR4A1(I and J) expression was revealed by whole-mount in situ hybridization (blue staining) at 72 hpf in control and NR4A2-MO1-injected larvae. For all pictures anterior is to the left; A,B,E,F,I,J are lateral views, dorsal is to the top; C,D,G,H are dorsal views.
Antibody Labeling Details
No data available
Phenotype Details
No data available
Acknowledgments:
ZFIN wishes to thank the journal Molecular and cellular neurosciences for permission to reproduce figures from this article. Please note that this material may be protected by copyright.

Reprinted from Molecular and cellular neurosciences, 39(4), Blin, M., Norton, W., Bally-Cuif, L., and Vernier, P., NR4A2 controls the differentiation of selective dopaminergic nuclei in the zebrafish brain, 592-604, Copyright (2008) with permission from Elsevier. Full text @ Mol. Cell Neurosci.