ZFIN ID: ZDB-FIG-080325-80
Bessa et al., 2008
- meis1 regulates cyclin D1 and c-myc expression, and controls the proliferation of the multipotent cells in the early developing zebrafish eye. Development (Cambridge, England) 135(5):799-803
Full text @ Development
EXPRESSION / LABELING:
| | |
| --- | --- |
| Gene: | |
| Fish: | |
| Knockdown Reagent: | |
| Anatomical Terms: | |
| Stage: | 20-25 somites |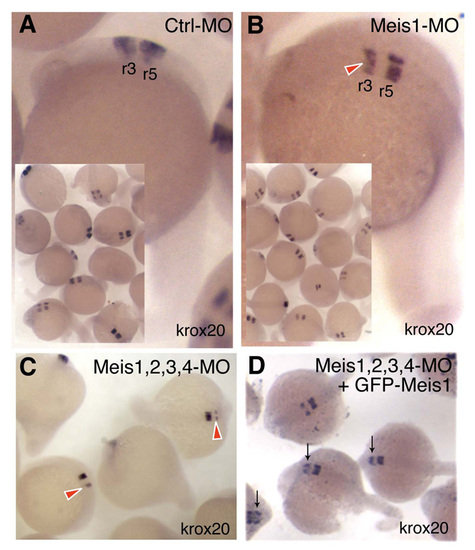 Fig. S2 meis1-MO injection reduces rhombomeres-3 krox20 expression specifically. (A) Ctrl-MO has no effect on krox20 expression in rhombomeres 3 (r3) or 5 (r5). (B) meis1-MO embryos show a specific reduction of r3 krox20 expression (red arrowhead). (C) Injection of a meis1, 2.2, 3 and 4 MO cocktail results in an even stronger inhibition of r3 krox20 expression (red arrowheads). (D) This effect is partially rescued by injection of GFP-meis1 mRNA (meis1GFP) (black arrows). GFP-meis1 is insensitive to meis1-MO, since the N-terminal tagging of meis1 with GFP destroys the meis1-MO target sequence in the GFP-meis1 mRNA. These results phenocopy the reported effect on r3 krox20 expression caused by injection of a dominant-negative Meis form (Waskiewicz et al., 2001) and thus confirm the biological specificity of the Meis mopholinos used in this study.
Antibody Labeling Details
No data available
Phenotype Details
No data available
Acknowledgments:
ZFIN wishes to thank the journal Development (Cambridge, England) for permission to reproduce figures from this article. Please note that this material may be protected by copyright. Full text @ Development