ZFIN ID: ZDB-FIG-061201-5
EXPRESSION / LABELING:
| | |
| --- | --- |
| Genes: | |
| Fish: | |
| Knockdown Reagent: | |
| Anatomical Terms: | |
| Stage: | Prim-25 |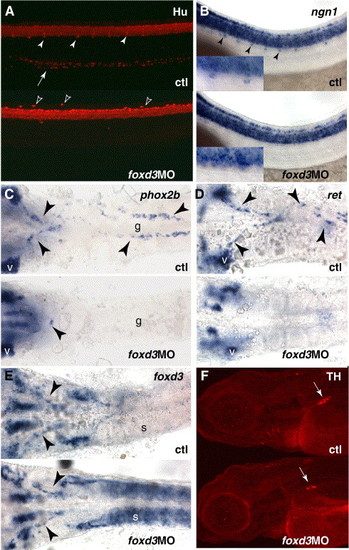 Fig. 6 Morpholino knockdown and loss of peripheral neuronal markers. (A) Loss of Hu immunoreactivity from the dorsal root ganglia (arrowheads) and gut (arrow) of embryos injected with foxd3 morpholino, lateral view of trunk at 72 hpf. Morpholino-injected embryos frequently display ectopic Hu-positive cells dorsally (black arrowheads). (B) ngn1 in situ hybridization at 36 hpf, showing absence of DRG precursors (arrowheads, see inset). (C–E) In situ hybridizations at 36 hpf, ventral views with yolk removed, indicating migrating vagal neural crest cells and enteric neuron precursors in the gut tube (arrowheads). V, vagal ganglia; g, gut tube; s, somites. (C) phox2b. (D) ret. (E) foxd3. (F) tyrosine hydroxylase staining of sympathetic ganglia (arrow) that is reduced in morpholino-injected embryos at 96 hpf, lateral views.
Antibody Labeling Details
No data available
Phenotype Details
No data available
Acknowledgments:
ZFIN wishes to thank the journal Developmental Biology for permission to reproduce figures from this article. Please note that this material may be protected by copyright.

Reprinted from Developmental Biology, 290(1), Lister, J.A., Cooper, C., Nguyen, K., Modrell, M., Grant, K., and Raible, D.W., Zebrafish Foxd3 is required for development of a subset of neural crest derivatives, 92-104, Copyright (2006) with permission from Elsevier. Full text @ Dev. Biol.