ZFIN ID: ZDB-FIG-060125-9
Croushore et al., 2005
- Ptena and ptenb genes play distinct roles in zebrafish embryogenesis. Developmental dynamics : an official publication of the American Association of Anatomists 234(4):911-921
Full text @ Dev. Dyn.
PHENOTYPE:
| | |
| --- | --- |
| Fish: | |
| Knockdown Reagents: | |
| Observed In: | |
| Stage: | Long-pec |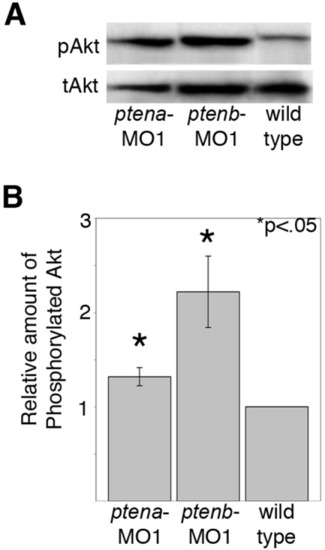 Fig. 8 Lipid phosphatase activity of zebrafish pten genes. Lysates were prepared from wild type embryos as well as ptena and ptenb morphants at 48 hpf (30 embryos/group). Proteins were separated by SDS-PAGE and transferred to a nitrocellulose filter. Blots were probed with an anti-Akt antibody, stripped, and reprobed with an anti-phospho-Akt (pAkt) antibody. A: Western blot. B: Quantitation of bands by laser densitometry. The bars for ptena (n = 6 separate experiments) and ptenb (n = 4 separate experiments) represent the relative ratio of pAkt to total Akt (tAkt) compared to wild type embryos. The error bars represent the standard error of the mean. The asterisk indicates a statistically significant increase in the ratio of pAkt to tAkt (P < 0.05) as calculated by an unpaired Students t-test.
Gene Expression Details
No data available
Antibody Labeling Details
No data available
Acknowledgments:
This image is the copyrighted work of the attributed author or publisher, and ZFIN has permission only to display this image to its users. Additional permissions should be obtained from the applicable author or publisher of the image. Full text @ Dev. Dyn.