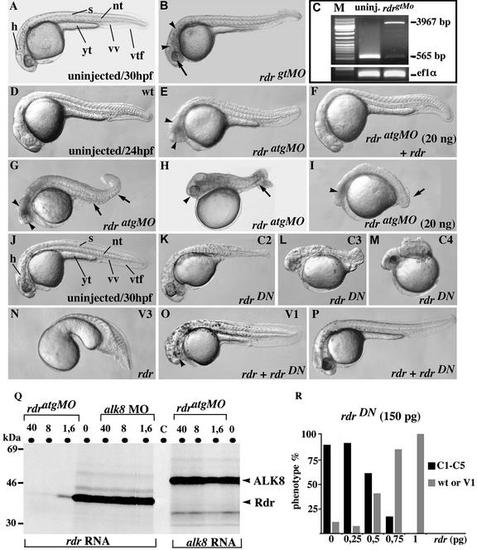 Fig. 1 Loss-of-Mrdr function specifically results in dorsalized phenotypes. (A and B) Live embryos at 30 hpf, either uninjected (A) or injected with rdrgtMO (10 ng; B) showing all characteristics of rdrΔ1 zygotic mutant haploids, including reduced eyes (arrow) and neural cell death (arrowheads). (C) RT-PCR products of transcripts from uninjected and rdrgtMO-injected embryos using primers amplifying the region of the targeted splicing event were run on a 3% agarose gel. The morphant PCR product has the expected size (3,967 kb) and sequence of a transcript retaining intron 1. ef1α amplimers are shown as reverse transcription quantitative controls. (D–P) Live embryos at 24 hpf (D–I) and 30 hpf (J–P) either uninjected (D and J) or injected (E–I and K–P) with the MOs/mRNAs described in each right lower corner. Unless stated otherwise, doses used per embryo were rdr (1 pg), rdrDN (150 pg), and rdratgMO (15 ng). Arrowheads and arrows in E and G–I denote ZrdrMO and MrdrMO features, respectively. (K–M) C2–C4 dorsalized rdrDN-injected embryos. (N and O) V3 (strong) and V1 (mild) ventralized embryos. Arrowhead in O marks the V1-characteristic reduced eye size. All views are lateral, anterior to the left. h, head; s, somite; nt, notochord; yt, yolk tube; vv, ventral vein; vtf, ventral tail fin. (Q) rdratgMO specifically blocks rdr mRNA but not alk8 mRNA translation in vitro. rdr (Left) or alk8 (Right) mRNAs (1 μg) were translated in vitro in the presence of rdratgMO or alk8MO at the indicated concentrations (40, 8, 1.6, or 0 μM), then translation products were resolved. (C) No mRNA added in the translation reaction. (P and R) Rescue of rdrDN phenotypes with rdr mRNA.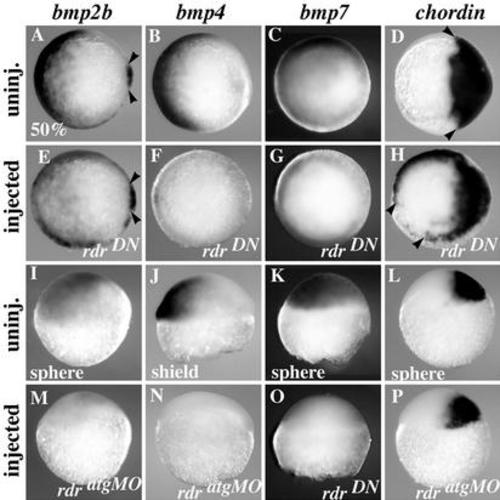 Fig. 2 Loss-of-Mrdr function results in down-regulation of early bmp expression. Expression profiles of bmp2b (Left), bmp4 (Center Left), bmp7 (Center Right), and chordin (Right) in uninjected (A–D) and rdrDN-injected (E–H) early gastrulae (50% epiboly), and in uninjected (I–L) and injected (M–P) embryos at indicated stages of initiation of gene expression. (M, N, and P) rdratgMO-injected and (O) rdrDN-injected are shown. Arrowheads in A and E point to the dorsal (shield) territory of bmp2b expression (24), which, in contrast to the ventrolateral territory, was not affected by rdrDN. Arrowheads in D and H indicate the limits of chordin expression domain. A–H and I–P are animal pole and lateral views, respectively, dorsal to the right.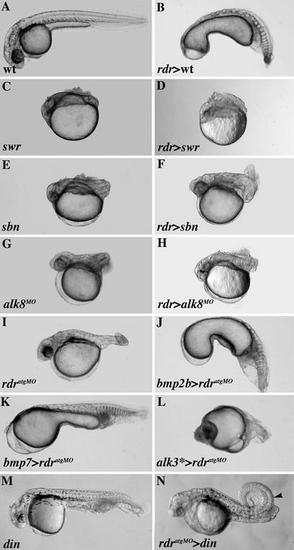 Fig. 3 rdr acts upstream of the bmp pathway. (A) Uninjected WT embryo. (B) rdr-injected embryo showing a V3 phenotype. (C–H) Indicated dorsalized mutants or morphants (Left) do not respond to rdr ventralizing activity (Right). (I) rdratgMO-injected embryo showing the MZrdrMO phenotype. (J–L) MZrdrMO phenotypes were reversed to strongly ventralized phenotypes by raising BMP levels via injections of the indicated mRNAs. (M) din-ventralized mutant. (N) rdratgMO-injected din mutant showing some dorsalized features (arrowhead). All embryos were photographed alive at 30 hpf.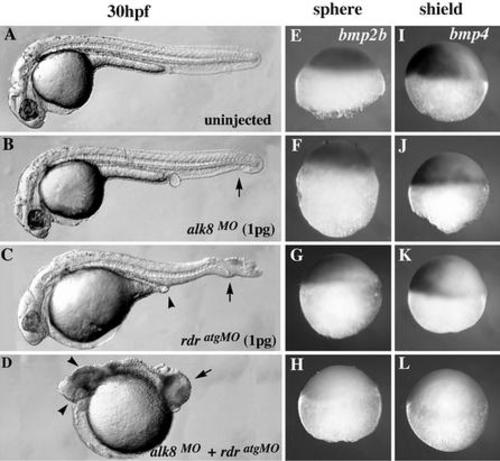 Fig. 4 Synergistic loss of the initiation of bmp2b/4 in rdr;alk8 double-morphants. WT embryos were injected with indicated MO(s) at subinhibitory concentrations and pictured live at 30 hpf (A–D) or were processed for in situ hybridization with bmp2b (E–H) or bmp4 (I–L) probes at sphere (4 hpf) and shield (6 hpf) stages, respectively. All views are lateral, anterior (A–D) or ventral (E–L) to the left. (A) Uninjected control. (B and C) A minority of low-dose single-morphants showed C1–C2 phenotypes (Table 1). Arrows in B and C show loss of ventral tail fin; arrowhead in C shows absence of ventral vein and yolk tube. (D) Double-morphants displayed a C4–C5 phenotype ventroposteriorally (arrow) and a ZrdrMO phenotype anteriorally (arrowheads). (E–I) WT expression patterns of bmp2b and bmp4. (F and J) All low-dose alk8 morphants examined (n = 45) initiated bmps properly. (G and K) Only 4% (n = 50) of rdrMO-injected embryos were slightly affected in the initiations of bmp2b and bmp4, correlating with the frequency of C2 phenotypes among rdr morphants observed at 30 hpf (C, Table 1). (H and L) All double-morphants examined (n = 50) failed to initiate bmp.
EXPRESSION / LABELING:
| | |
| --- | --- |
| Genes: | |
| Fish: | |
| Knockdown Reagent: | |
| Anatomical Term: | |
| Stage: | Sphere |
Acknowledgments:
ZFIN wishes to thank the journal Proceedings of the National Academy of Sciences of the United States of America for permission to reproduce figures from this article. Please note that this material may be protected by copyright. Full text @ Proc. Natl. Acad. Sci. USA