ZFIN ID: ZDB-FIG-200904-2
EXPRESSION / LABELING:
Gene:
Antibodies:
Fish:
Anatomical Terms:
Stage Range:

Day 5

to

Adult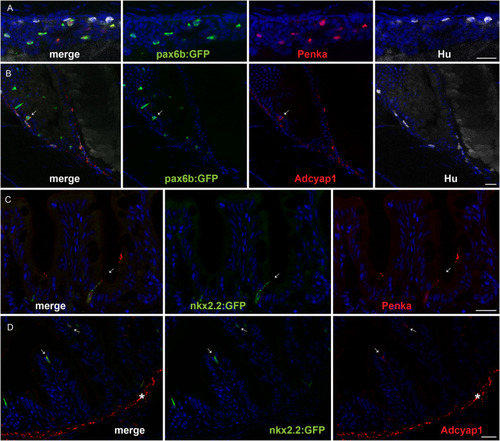 Fig. 2.
Immunostaining of enkephalin and Adcyap1 in the zebrafish intestine. a, b Confocal images of the intestines from 5-dpf Tg(pax6b:GFP) zebrafish larva stained with antibodies directed against GFP (green), Hu (white), ENKEPHALIN (a; red) or ADCYAP1 (b; red). c, d Confocal images of the intestine of adult Tg(8.5nkx2.2:GFP) stained with antibodies directed against GFP (green), ENKEPHALIN (c; red) or ADCYAP1 (d; red). Arrows show the location of some EECs expressing Adcyap1 (b, d) or enkephalin (c). Adcyap1 immunostaining is also observed at the level of EN axon fibres in gut larva (b) and in the muscularis layer of the adult intestine (shown by an asterisk in d). The zebrafish Adcyap1a and Adcyap1b display respectively 6 and 3 mismatches with human ADCYAP1 at the level of the epitope reacting with the Adcyap1 antibody, explaining the stronger signal of Adcyap1b in EN fibres. (The nkx2.2:GFP transgene is expressed specifically in EECs like Pax6b). Scale bar, 20 μm
Antibody Labeling Details
Phenotype Details
No data available
Acknowledgments:
This image is the copyrighted work of the attributed author or publisher, and ZFIN has permission only to display this image to its users. Additional permissions should be obtained from the applicable author or publisher of the image. Full text @ BMC Biol.