ZFIN ID: ZDB-FIG-180911-9
Your Input Welcome
Thank you for submitting comments. Your input has been emailed to ZFIN curators who may contact you if additional information is required.
Oops. Something went wrong. Please try again later.
EXPRESSION / LABELING:
Gene:
Antibody:
Fish:
Anatomical Terms:
Stage Range:

Day 4

to

Days 7-13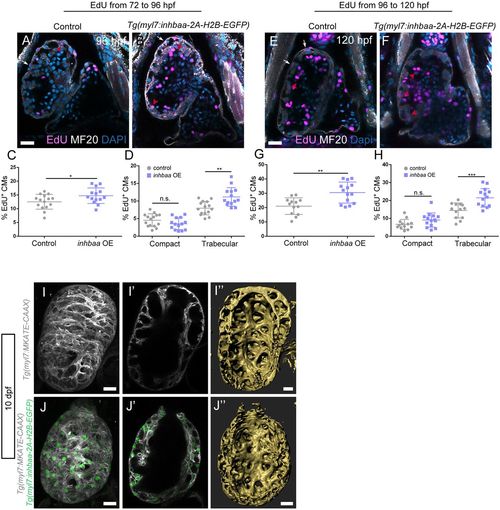 Fig. 5
The TGFβ pathway ligand Inhbaa promotes trabecular cardiomyocyte proliferation. (A-H) Quantification and images of cardiomyocyte proliferation in the Tg(myl7:inhbaa-2A-H2B-EGFP) line after EdU incubation from 72 to 96 hpf (A-D) and from 96 to 120 hpf (E-H) in the two myocardial layers; myosin heavy chain staining labels cardiomyocytes. Overexpression of inhbaa drives cardiomyocyte proliferation in the trabecular, but not the compact, layer; each point represents a heart (D,H). (I-J″) Evaluation of the trabecular phenotype in the Tg(myl7:inhbaa-2A-H2B-EGFP) line at 10 dpf; Tg(myl7:MKATE-CAAX) expression labels cardiomyocyte membranes. A denser trabecular network is observed in inhbaa-overexpressing cardiomyocytes (compare cross-section in I′ with J′, and 3D surface rendering I″ with J″). Six control and seven inhbaa-overexpressing larvae are imaged. Data are mean±s.d., *P=0.041 in C, **P=0.0025 in D, **P=0.0011 in G, ***P=0.0007 in H; Student's two-tailed t-test; each experiment was repeated twice. Scale bars: 20 µm. Scale bars in A,E,I,J apply to B,F,I′,J′, respectively.
Antibody Labeling Details
Acknowledgments:
ZFIN wishes to thank the journal Development (Cambridge, England) for permission to reproduce figures from this article. Please note that this material may be protected by copyright. Full text @ Development