ZFIN ID: ZDB-FIG-161229-10
EXPRESSION / LABELING:
Genes:
Antibodies:
Fish:
Anatomical Terms:
Stage Range:

Prim-15

to

Long-pec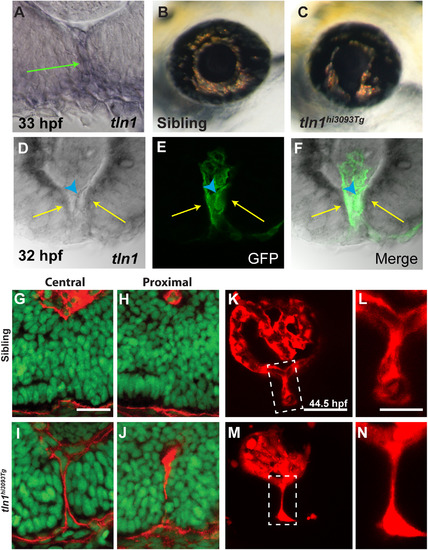 Fig. 5
talin1 is required for CFC in zebrafish. (A) talin1 is expressed within the POM and retinal/RPE cells lining the CF at 33 hpf (arrow). (B,C) Lateral views of the eye of tln1hi3093Tg mutant (C) and wild-type sibling (B) at 3dpf. tln1 mutants possess colobomas. (d-F) Distal section through the eye of a 32 hpf embryo demonstrating talin1 expression within the retina/RPE cells lining the CF (arrows) and the hyaloid vasculature (marked by GFP expression from fli1a:eGFP; arrowhead). (G-J) Sagittal sections through the eyes of 48 hpf tln1 mutants and siblings stained with Lam-111 (red) and Sytox-green (DNA; green). BM degradation is disrupted in tln1 mutants at 48 hpf. (K-N) Maximum projection images of the distal hyaloid in tln1 mutants and siblings demonstrating severe hypotrophy of the hyaloid in the tln1 mutant at 44.5 hpf. Scale bar=20 µm (G-J, K,M) and 50 µm (L,N).
Antibody Labeling Details
Acknowledgments:
ZFIN wishes to thank the journal Developmental Biology for permission to reproduce figures from this article. Please note that this material may be protected by copyright.

Reprinted from Developmental Biology, 419(2), James, A., Lee, C., Williams, A.M., Angileri, K., Lathrop, K.L., Gross, J.M., The Hyaloid Vasculature Facilitates Basement Membrane Breakdown During Choroid Fissure Closure in the Zebrafish Eye, 262-272, Copyright (2016) with permission from Elsevier. Full text @ Dev. Biol.