ZFIN ID: ZDB-FIG-161229-8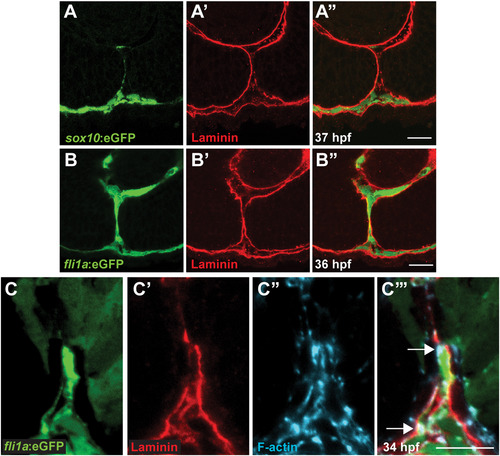 Fig. 4
Periocular mesenchymal cells contribute to CFC. (A-C) Sagittal views of the CF stained with anti-GFP (green), Lam-111 (red) and/or phalloidin (blue). (A) Few sox10:eGFP+ cells are detected in the CF, 37 hpf section pictured. (B) fli1a:eGFP+ cells are retained in the CF. 36 hpf section pictured. (C) fli1a:eGFP+ cells possess F-actin accumulations that localize to regions of BM breakdown. Arrows denote puncta of F-actin where Lam-111 is low or absent. 34 hpf section pictured. Scale bar=20 µm (A,B) and 10 µm (C).
Gene Expression Details
No data available
Antibody Labeling Details
Phenotype Details
No data available
Acknowledgments:
ZFIN wishes to thank the journal Developmental Biology for permission to reproduce figures from this article. Please note that this material may be protected by copyright.

Reprinted from Developmental Biology, 419(2), James, A., Lee, C., Williams, A.M., Angileri, K., Lathrop, K.L., Gross, J.M., The Hyaloid Vasculature Facilitates Basement Membrane Breakdown During Choroid Fissure Closure in the Zebrafish Eye, 262-272, Copyright (2016) with permission from Elsevier. Full text @ Dev. Biol.