ZFIN ID: ZDB-FIG-161110-22
Your Input Welcome
Thank you for submitting comments. Your input has been emailed to ZFIN curators who may contact you if additional information is required.
Oops. Something went wrong. Please try again later.
EXPRESSION / LABELING:
| | |
| --- | --- |
| Genes: | |
| Antibodies: | |
| Fish: | |
| Anatomical Terms: | |
| Stage: | Days 14-20 |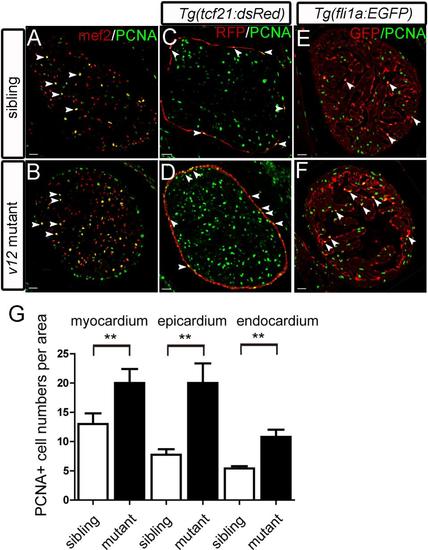 Fig. S8
Epicardial over-proliferation is prominent in v12 mutant. (A-B) Mef2 and PCNA immunostaining images show that increased proliferating cells in the v12 mutant myocardium. (C-D) Epicardial cells is labeled by Tg(tcf21:dsRed) transgenic reporter. Increased PCNA positive cells found in the epicardium region. (E-F) Increased proliferative cells in the endocardium of v12 mutant labeled by Tg(fli1a:EGFP) transgenic reporter. (G) v12mutant has more PCNA positive nuclei per 105μm2 than the wild type sibling. Data are presented as mean±s.e.m.two-tailed unpaired t-test, **, P<0.01. Scale bar: 20μm.
Antibody Labeling Details
Acknowledgments:
ZFIN wishes to thank the journal Development (Cambridge, England) for permission to reproduce figures from this article. Please note that this material may be protected by copyright. Full text @ Development