ZFIN ID: ZDB-FIG-160817-9
Kimelman, 2016
- A novel cold-sensitive mutant of ntla reveals temporal roles of Brachyury in zebrafish. Developmental dynamics : an official publication of the American Association of Anatomists 245(8):874-80
Full text @ Dev. Dyn.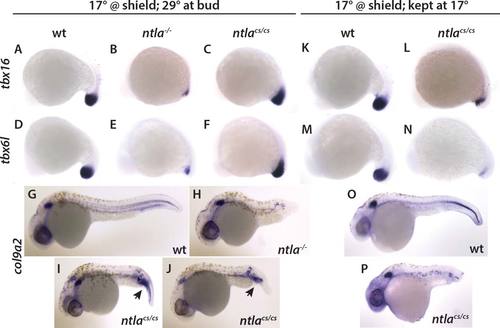 Fig. 3
Analysis of gene expression in ntla mutant embryos. A-J: Wild-type, ntla-/-, and ntlacs/cs embryos were placed at 17°C at shield stage, then incubated at 29°C the next morning (when the embryos were at bud stage) and raised to the 14-somite stage. Whereas ntla-/- embryos had essentially no expression of the presomitic genes tbx16 and tbx6l or the notochordal gene col9a2, ntlacs/cs, embryos had strong expression of all three genes. All these embryos were hybridized with the indicated probe at the same time and for the same length of time. K-P: In contrast, when ntlacs/cs embryos were kept continuously at 17°C, expression of all three genes was considerably diminished. Arrows show accumulation of col9a2 in the posterior of ntlacs/cs embryos.
Antibody Labeling Details
No data available
Acknowledgments:
ZFIN wishes to thank the journal Developmental dynamics : an official publication of the American Association of Anatomists for permission to reproduce figures from this article. Please note that this material may be protected by copyright. Full text @ Dev. Dyn.