ZFIN ID: ZDB-FIG-160725-5
Your Input Welcome
Thank you for submitting comments. Your input has been emailed to ZFIN curators who may contact you if additional information is required.
Oops. Something went wrong. Please try again later.
EXPRESSION / LABELING:
| | |
| --- | --- |
| Gene: | |
| Antibody: | |
| Fish: | |
| Knockdown Reagent: | |
| Anatomical Terms: | |
| Stage: | Long-pec |
PHENOTYPE:
| | |
| --- | --- |
| Fish: | |
| Knockdown Reagent: | |
| Observed In: | |
| Stage: | Long-pec |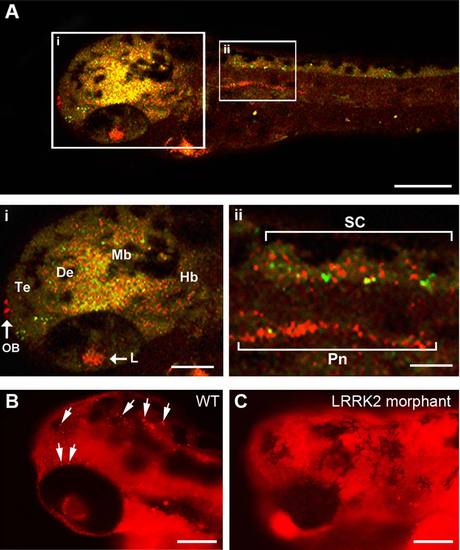 Fig. 6
LRRK2 expression in wild-type embryos. A: LRRK2 is expressed throughout the brain, in the lens, in the heart, in the pronephros, and in the spinal cord (red). Neuronal labeling was visualized by GFP expression driven by the HuC promoter (green). Overlay of the red and green channels showing a mixture of overlap of signal (yellow) but also separate red and green signals demonstrating that LRRK2 is expressed both in Huc-GFP neurons and surrounding the neurons. Te, telencephalon; De, diencephalon; Mb, midbrain; Hb, hindbrain; Pn, pronephros; SC, spinal cord; L, lens; H, heart′ OB, olfactory bulb. B,C: Comparison of LRRK2 protein expression using immunofluorescence between wt (B) and LRRK2 translational MO-injected (C) embryos. LRRK2 protein expression is reduced in the LRRK2 morphants (C) compared with wt embryos (B). White arrows indicate examples of specific and punctate immunostaining in wt embryos. The background red staining in C appears higher than in B because the exposure was increased in C to verify less specific LRRK2 cross-reactivity. Scale bars = 100 µm in A-C; 50 µm in i,ii.
Antibody Labeling Details
No data available
Acknowledgments:
ZFIN wishes to thank the journal Journal of neuroscience research for permission to reproduce figures from this article. Please note that this material may be protected by copyright. Full text @ J. Neurosci. Res.