ZFIN ID: ZDB-FIG-150928-12
Your Input Welcome
Thank you for submitting comments. Your input has been emailed to ZFIN curators who may contact you if additional information is required.
Oops. Something went wrong. Please try again later.
PHENOTYPE:
| | |
| --- | --- |
| Fish: | |
| Knockdown Reagent: | |
| Observed In: | |
| Stage: | Day 5 |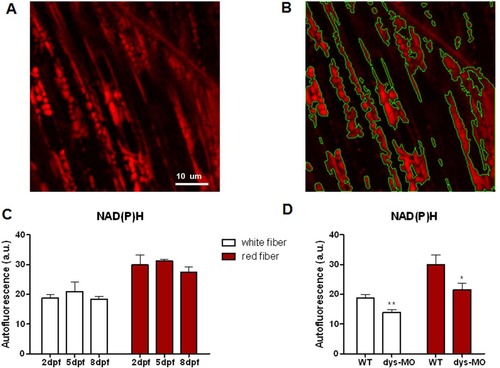 Fig. 6
NAD(P)H signal is relatively stable during normal development but reduced in dystrophin morphants.
(A) NAD(P)H signal of white skeletal muscle cells of zebrafish embryo at 5dpf. Scale bar,10µm. (B) Intensity-based segmentation of mitochondria. NAD(P)H signal was defined as mean intensity of mitochondrial regions. (C) NAD(P)H autofluorescence in the mitochondria of red (right) and white (left) skeletal muscle cells of wild-type embryos at 2, 5 and 8 dpf. No significant change of NAD(P)H was observed during development in either red or white fibers. N = 5–13 animals per group. (D) NAD(P)H signal was significantly decreased in both red and white fibers of dys-MO morphants (dys-MO) compared with wild-type (WT) controls. Data are expressed as the mean±SEM. *: p<0.05; **: p<0.01 versus wild-type group.
Gene Expression Details
No data available
Antibody Labeling Details
No data available
Acknowledgments:
ZFIN wishes to thank the journal PLoS One for permission to reproduce figures from this article. Please note that this material may be protected by copyright. Full text @ PLoS One