ZFIN ID: ZDB-FIG-150824-14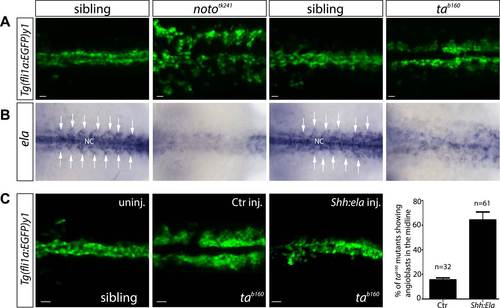 Fig. 3 Notochord (NC) ela expression is sufficient to guide angioblasts to the midline.
(A) Angioblasts fail to migrate to the midline position in the NC mutants noto and ta. Confocal projections of Tg(fli1a:EGFP)y1 embryos in dorsal view at 17 hpf (scale bars: 20 µm). (B) In situ hybridization in 17 hpf old zebrafish embryos showing ela expression from the NC and somites (white arrows). NC deficiency abolishes or strongly reduces ela expression in noto or ta mutant embryos. (C) Mosaic expression of Ela in the midline, achieved by injection of shh:ela DNA, led to rescue of angioblast migration in tab160 mutant embryos (n = 61 embryos, ctr injected n = 32 embryos). Significance was calculated by chi-square (Χ2 = 19.65) equivalent to p < 0.001 (p = 9E-06). Scale bars: 30 µm.
Antibody Labeling Details
No data available
Acknowledgments:
ZFIN wishes to thank the journal eLIFE for permission to reproduce figures from this article. Please note that this material may be protected by copyright. Full text @ Elife