ZFIN ID: ZDB-FIG-150108-6
Huang et al., 2013
- Sequential effects of spadetail, one-eyed pinhead and no tail on midline convergence of nephric primordia during zebrafish embryogenesis. Developmental Biology 384(2):290-300
Full text @ Dev. Biol.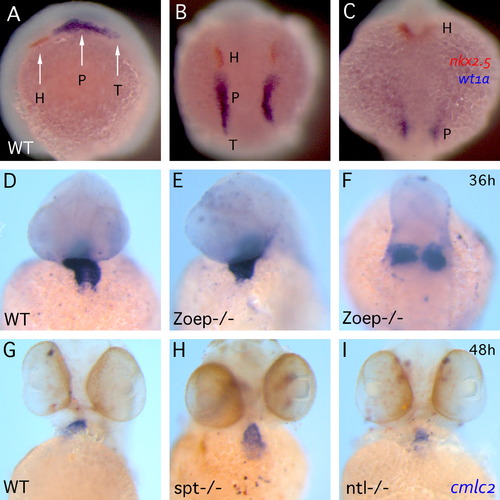 Fig. 7
PGP and cardiac midline convergence. ((A)-(C)) Transiency of PGP neighboring tissue. Double in situ of nkx2.5 (orange) and wt1a (blue) at 12 ((A)-(B)) and 18 hpf (C). (A) The image is lateral view anterior to the right. ((B)-(C)) are dorsal view anterior to the top and same magnification. (H) heart primordium; (P) pronephric glomerular primordium; (T) tubule primordium. ((D)-(I)) Whole-mount in situ hybridization of cmlc2 demonstrating cardiac morphogenetic phenotypes at 36 ((D)-(F)) and 48 hpf ((G)-(I)) in WT ((D) and (G)), Zoep-/- ((E) and (F)), spt-/- (H) and ntl-/- (I) embryos. ((D)-(I)) The images are same magnification and anterior to the top; ((A) and (B), (D)-(F)) are ventral view and (C) is dorsal view.
Antibody Labeling Details
No data available
Acknowledgments:
This image is the copyrighted work of the attributed author or publisher, and ZFIN has permission only to display this image to its users. Additional permissions should be obtained from the applicable author or publisher of the image.

Reprinted from Developmental Biology, 384(2), Huang, C.J., Wilson, V., Pennings, S., MacRae, C.A., and Mullins, J., Sequential effects of spadetail, one-eyed pinhead and no tail on midline convergence of nephric primordia during zebrafish embryogenesis, 290-300, Copyright (2013) with permission from Elsevier. Full text @ Dev. Biol.