ZFIN ID: ZDB-FIG-140304-28
EXPRESSION / LABELING:
Genes:
Fish:
Knockdown Reagent:
Anatomical Terms:
Stage Range:

30%-epiboly

to

Bud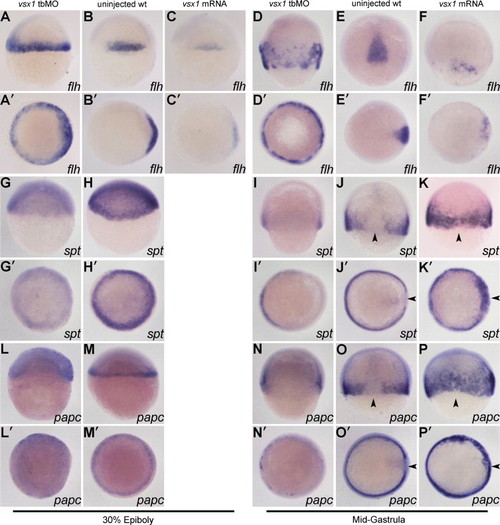 Fig. 5
Vsx1 represses flh to preserve spt and papc expression in the ventolateral margin. The injected reagents are indicated at the top of each column. Riboprobes are indicated at the bottom of each figure. (A–P) Dorsal view of embryos with animal pole towards the top. (A′–P′) Animal pole view of the embryos with dorsal towards the right. Arrow heads indicate that the paraxial mesoderm marker is detected in the presumptive axial mesoderm region in vsx1 overexpression embryos.
Antibody Labeling Details
No data available
Phenotype Details
No data available
Acknowledgments:
ZFIN wishes to thank the journal Developmental Biology for permission to reproduce figures from this article. Please note that this material may be protected by copyright.

Reprinted from Developmental Biology, 386(1), He, Y., Xu, X., Zhao, S., Ma, S., Sun, L., Liu, Z., and Luo, C., Maternal control of axial-paraxial mesoderm patterning via direct transcriptional repression in zebrafish, 96-110, Copyright (2014) with permission from Elsevier. Full text @ Dev. Biol.