ZFIN ID: ZDB-FIG-130128-42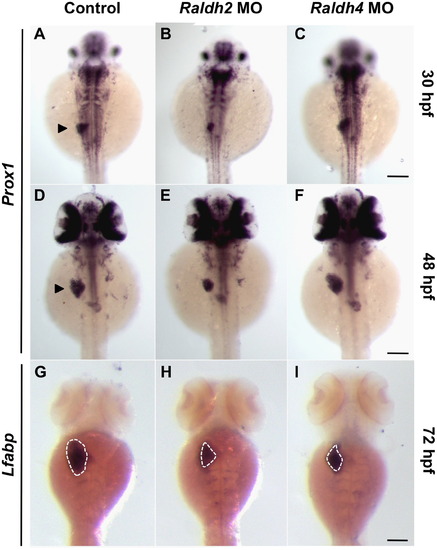 Fig. 2 Raldhs 2 and 4 temporally regulate liver development. (A–I) Wild type embryos were injected with raldh2 or raldh4 MO at the 1-cell stage, and liver development was assessed over the next 72 h. In situ hybridization for the hepatoblast marker prox1 at 30 hpf (A–C) and 48 hpf (D–F) and hepatocyte marker lfabp at 72 hpf (G–I) demonstrates distinct temporal requirements for Raldh2 and Raldh4 during liver development. Arrowheads denote the liver primordium, and the dotted lines outline the liver. Scale bars: 100 µm.
Antibody Labeling Details
No data available
Acknowledgments:
ZFIN wishes to thank the journal Developmental Biology for permission to reproduce figures from this article. Please note that this material may be protected by copyright.

Reprinted from Developmental Biology, 372(2), Garnaas, M.K., Cutting, C.C., Meyers, A., Kelsey, P.B., Harris, J.M., North, T.E., and Goessling, W., Rargb regulates organ laterality in a zebrafish model of right atrial isomerism, 178-189, Copyright (2012) with permission from Elsevier. Full text @ Dev. Biol.