ZFIN ID: ZDB-FIG-110816-5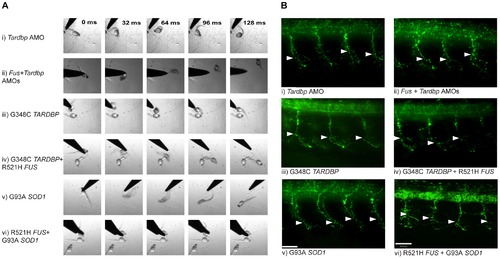 Fig. 6
Mutant SOD1 exacerbates the motor phenotype caused by mutant FUS and mutant TARDBP.
A) Motor phenotype was assessed both by time frames obtained from video recordings of the TEER as well as B) immunohistochemical labeling of the axonal projections to determine UAL in motor neurons. The analysis demonstrates that knock-down of both Tardbp and Fus (ii) does not lead to an exacerbated phenotype when compared to phenotypes generated by KD of Tardbp (i) or Fus by AMOs. Similarly, overexpression of both mutant R521H FUS and G348C TARDBP (iv) does not aggravate the phenotype observed by overexpression of mutant TARDBP (iii) or mutant FUS (Figure 2A, 2Biv). However, co-expression of mutant SOD1 and mutant FUS did exacerbate the motor phenotype caused by mutant SOD1 alone (v). Arrowheads represent length to the first axonal branching (UAL). Scale bar: 40 μm.
Gene Expression Details
No data available
Antibody Labeling Details
Acknowledgments:
ZFIN wishes to thank the journal PLoS Genetics for permission to reproduce figures from this article. Please note that this material may be protected by copyright. Full text @ PLoS Genet.