ZFIN ID: ZDB-FIG-101007-23
Hammond et al., 2010
- Cabin1 expression suggests roles in neuronal development. Developmental dynamics : an official publication of the American Association of Anatomists 239(9):2443-2451
Full text @ Dev. Dyn.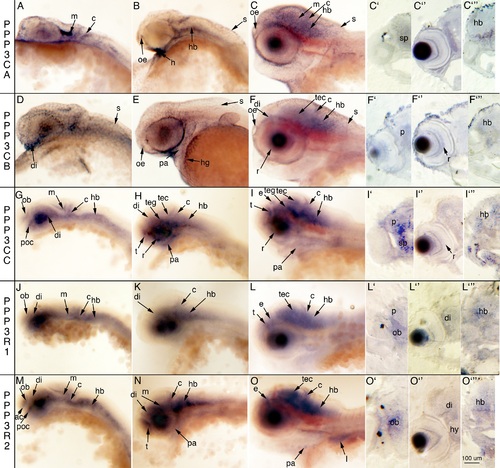 Fig. S2 Calcineurin subunits are expressed in unique temporal and spatial patterns. All calcineurin subunits are expressed in the nervous system during development as determined by whole embryo in situ hybridization (ISH). A–O: Lateral views of the head at 24 hpf (A,D,G,J,M), 48 hpf (B,E,H,K,N), and 72 hpf (C,F,I,L,O) and coronal sections of stained embryos at 72 hours postfertilization (hpf; C2–C23 F2–F23 I2–I23 L2–L23 O2–O23). ac, anterior commissure; c, cerebellum; di, diencephalon; e, epiphysis; h, heart; hb, hindbrain; hg, hatching gland; hy, hypothalamus; l, liver; m, midbrain; ob, olfactory bulb; oe, olfactory epithelium; p, pallium; pa, pharyngeal arches; poc, post optic commissure; r, retina; s, skin; sp, subpallium; t, telencephalon; tec, tectum; teg, tegmentum. Some embryos have been manually deyolked.
Antibody Labeling Details
No data available
Phenotype Details
No data available
Acknowledgments:
ZFIN wishes to thank the journal Developmental dynamics : an official publication of the American Association of Anatomists for permission to reproduce figures from this article. Please note that this material may be protected by copyright.

Acknowledgment.

Full text @ Dev. Dyn.