ZFIN ID: ZDB-FIG-101007-20
Hammond et al., 2010
- Cabin1 expression suggests roles in neuronal development. Developmental dynamics : an official publication of the American Association of Anatomists 239(9):2443-2451
Full text @ Dev. Dyn.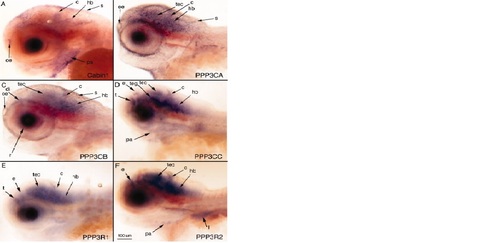 Fig. 4 Cabin1 and calcineurin expression overlaps in the central nervous system (CNS). Calcineurin expression is widespread throughout the developing nervous system. Expression of Cabin1 coincides with one or more calcineurin genes in the olfactory epithelium (oe), cerebellum (c), and hindbrain (hb). A–F: Lateral views of the head at 72 hpf after whole embryo mRNA in situ hybridization (ISH) using probes for the following: Cabin1 (A) and all five calcineurin subunits: PPP3CA (B), PPP3CB (C), PPP3CC (D), PPP3R1 (E), PPP3R2 (F). Calcineurin expression at 24–72 hpf can been viewed in supplementary material (S1). di, diencephalon; e, epiphysis; l, liver; pa, pharyngeal arches; r, retina; s, skin; t, telencephalon; tec, tectum; teg, tegmentum. Some embryos have been manually deyolked.
Antibody Labeling Details
No data available
Phenotype Details
No data available
Acknowledgments:
ZFIN wishes to thank the journal Developmental dynamics : an official publication of the American Association of Anatomists for permission to reproduce figures from this article. Please note that this material may be protected by copyright.

Acknowledgment.

Full text @ Dev. Dyn.