ZFIN ID: ZDB-FIG-100304-25
PHENOTYPE:
| | |
| --- | --- |
| Fish: | |
| Knockdown Reagent: | |
| Observed In: | |
| Stage: | 1-4 somites |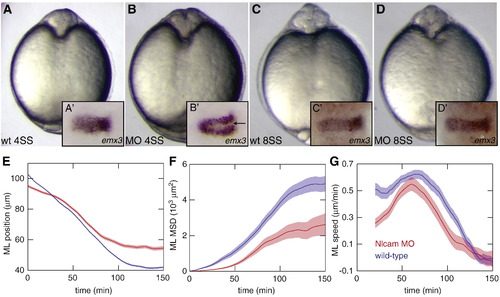 Fig. 6 nlcam loss of function causes delayed convergence. (A–D) At 4SS, a deep cleft at the midline in nlcam ATG-MO injected (0.3 mM) embryos (B) indicates that forebrain cells have not yet converged to the midline, as they have in control embryos (A). This is confirmed by in situ hybridisation against emx3 (A′, B′). This phenotype is transient, as demonstrated by the recovered forebrain morphology by 8SS (C, D). (E–G) Graphs show selected statistics for forebrain cell convergence from a single dataset. (E) Position of cells relative to the midline. (F) MSD along the ML axis. (G) Speed along the ML axis. Blue = wt cells; red = nlcam-MO.
Antibody Labeling Details
No data available
Acknowledgments:
ZFIN wishes to thank the journal Developmental Biology for permission to reproduce figures from this article. Please note that this material may be protected by copyright.

Reprinted from Developmental Biology, 339(1), Brown, K.E., Keller, P.J., Ramialison, M., Rembold, M., Stelzer, E.H., Loosli, F., and Wittbrodt, J., Nlcam modulates midline convergence during anterior neural plate morphogenesis, 14-25, Copyright (2010) with permission from Elsevier. Full text @ Dev. Biol.