ZFIN ID: ZDB-FIG-091016-28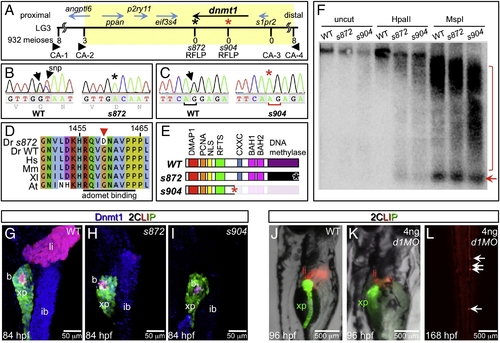 Fig. 3 The dandelion phenotype is caused by mutations in dnmt1. (A) Genetic map of the ddn region on linkage group 3; the numbers above the SSLP/RFLP markers indicate the number of recombinants in 932 meioses analyzed. Six genes lie within the critical region (shaded). (B) Sequence traces of pooled phenotypically WT and pooled dnmt1s872 mutant cDNAs; a G to A transversion at nucleotide 4376 results in a G1459D substitution in Dnmt1. (C) Sequence traces of pooled phenotypically WT and pooled dnmt1s904 mutant genomic DNA; a mutation in the exon 15 splice acceptor results in a single base pair frameshift and premature termination following 31 missense substitutions. (D) Peptide sequence alignment of D. rerio (Dr) Dnmt1 from dnmt1s872 mutant and WT with H. sapiens (Hs), M. musculus (Mm), X. laevis (Xl), and A. thaliana (At). (E) Domain map of WT and ddn alleles of Dnmt1. (F) Southern blot of WT and dnmt1s872 and dnmt1s904 mutant genomic DNA either uncut or digested with methylation-sensitive HpaII or methylation insensitive MspI, and hybridized with a radiolabeled probe to the DANA consensus sequence. Appearance of DANA band (arrow) in dnmt1 mutant DNA digested with HpaII indicates hypomethylation of this transposable element, while smearing of high molecular weight DNA indicates widespread genomic hypomethylation (compare bracketed regions). (G–I) Dnmt1 antibody staining in 2CLIP transgenic line. Dnmt1 (blue) is observed in endodermal organs of WT (G) and dnmt1s872 mutants (H), but not dnmt1s904 mutants (I). (J–L) Injection of 4 ng of dnmt1 morpholino (d1MO) into the 2CLIP line phenocopies ddn mutants. Compared to WT (J), d1MO-injected larvae (K) show smaller mass of differentiated pancreatic acinar cells (green) and hepatocytes (red) at 96 hpf. Ectopic dsRed fluorescence is observed in the posterior vasculature of d1MO-injected larvae at 168 hpf (L).
Antibody Labeling Details
No data available
Acknowledgments:
ZFIN wishes to thank the journal Developmental Biology for permission to reproduce figures from this article. Please note that this material may be protected by copyright.

Reprinted from Developmental Biology, 334(1), Anderson, R.M., Bosch, J.A., Goll, M.G., Hesselson, D., Dong, P.D., Shin, D., Chi, N.C., Shin, C.H., Schlegel, A., Halpern, M., and Stainier, D.Y., Loss of Dnmt1 catalytic activity reveals multiple roles for DNA methylation during pancreas development and regeneration, 213-223, Copyright (2009) with permission from Elsevier. Full text @ Dev. Biol.