ZFIN ID: ZDB-FIG-090710-38
Lunt et al., 2009
- Zebrafish ift57, ift88, and ift172 intraflagellar transport mutants disrupt cilia but do not affect hedgehog signaling. Developmental dynamics : an official publication of the American Association of Anatomists 238(7):1744-1759
Full text @ Dev. Dyn.
PHENOTYPE:
| | |
| --- | --- |
| Fish: | |
| Observed In: | |
| Stage: | Day 5 |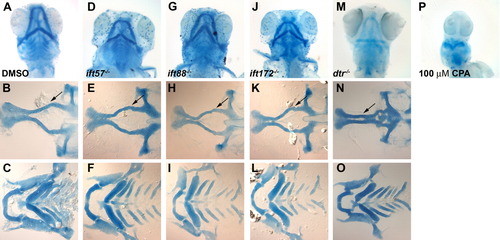 Fig. 7 Alcian blue staining of jaw and brachial arch structure at 5 dpf. A-C: Wild type embryos raised in DMSO vehicle exhibit normal craniofacial head skeleton. D-L: IFT mutants displayed no reduction or loss of the major head structures and no fusion of the trabeculae. M-O: detourgli1 mutants showed significant narrowing of ethmoid plate (black arrow). P: Embryos treated with 100 μM cyclopamine lack all major head cartilage. The top row shows whole-mount images viewed from the ventral side. The middle row shows flat-mount images of dissected dorsal neurocranium structures. The bottom row shows flat-mounted images of dissected ventral structures to show brachial arches.
Gene Expression Details
No data available
Antibody Labeling Details
No data available
Acknowledgments:
ZFIN wishes to thank the journal Developmental dynamics : an official publication of the American Association of Anatomists for permission to reproduce figures from this article. Please note that this material may be protected by copyright. Full text @ Dev. Dyn.