ZFIN ID: ZDB-FIG-090324-27
PHENOTYPE:
| | |
| --- | --- |
| Fish: | |
| Observed In: | |
| Stage: | Day 5 |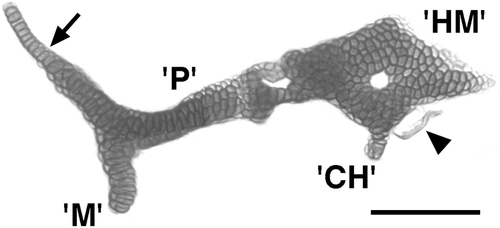 Fig. 10 A similar suc- phenotype occurs in the mandibular and hyoid arches. Flat-mounted dissected preparation at day 5. There is tight apposition, but not a fusion, between the cartilages that we identify as the mutant equivalents of the dorsal segmental homologues, P in the mandibular arch and HM in the hyoid arch. The apposition between them is topologically as in wild types; occurring just where the SY normally would be present (Fig. 1). The palatoquadrate possesses a pterygoid process that appears normal in form (arrow). The ventral segmental homologues, M and CH, are drastically reduced and are fused to the dorsal elements at about the locations where the dorsal–ventral joints should occur in both arches, but which are missing in both. A small fragment of bone is present beside the posterior–ventral surface of the HM (arrowhead), about the region where the opercular bone normally develops. Scale bar: 100 μm.
Gene Expression Details
No data available
Antibody Labeling Details
No data available
Acknowledgments:
ZFIN wishes to thank the journal Developmental Biology for permission to reproduce figures from this article. Please note that this material may be protected by copyright.

Reprinted from Developmental Biology, 203, Kimmel, C.B., Miller, C.T., Kruse, G., Ullmann, B., BreMiller, R.A., Larison, K.D., and Snyder, H.C., The shaping of the pharnygeal cartilages during early development of the zebrafish, 245-263, Copyright (1998) with permission from Elsevier. Full text @ Dev. Biol.