ZFIN ID: ZDB-FIG-081105-19
Your Input Welcome
Thank you for submitting comments. Your input has been emailed to ZFIN curators who may contact you if additional information is required.
Oops. Something went wrong. Please try again later.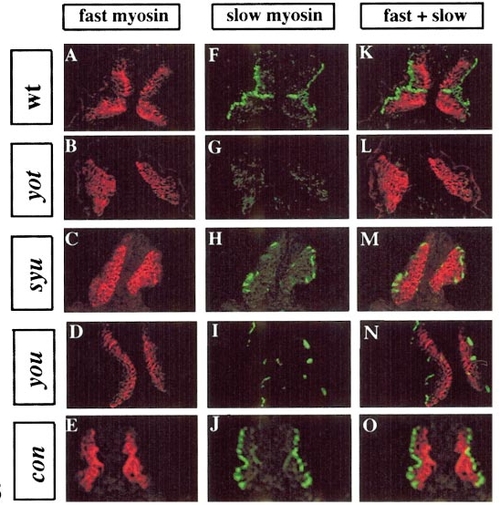 Fig. 5 Expression of slow and fast myosin in wild-type and mutant embryos. Separated and merged immunofluorescence images of transverse sections of 26- to 30-somite stage embryos stained for fast MyHC (red) and slow MyHC (green). (A, F, and K) Wild-type embryo. Most of the slow-myosin-expressing cells have by this stage migrated to the lateral edge of the somite with the exception of the MPs that remain close to the notochord at the midline of the somite. (B, G, and L) yot homozygote; note the complete absence of all slow myosin expression. (C, H, and M) syu homozygote showing reduction in the number of cells expressing slow myosin; note that these have migrated correctly. (D, I, and N) you homozygote showing reduction in slow-myosin-expressing cells similar to that seen in syu. Note that some cells fail to migrate. (E, J, and O) A con homozygote showing normal distribution of slow muscle cells except for the absence of MPs (compare F and J).
Gene Expression Details
No data available
Antibody Labeling Details
Phenotype Details
No data available
Acknowledgments:
ZFIN wishes to thank the journal Developmental Biology for permission to reproduce figures from this article. Please note that this material may be protected by copyright.

Reprinted from Developmental Biology, 216(2), Lewis, K.E., Currie, P.D., Roy, S., Schauerte, H., Haffter, P., and Ingham, P.W., Control of muscle cell-type specification in the zebrafish embryo by hedgehog signalling, 469-480, Copyright (1999) with permission from Elsevier. Full text @ Dev. Biol.