ZFIN ID: ZDB-FIG-080828-60
Your Input Welcome
Thank you for submitting comments. Your input has been emailed to ZFIN curators who may contact you if additional information is required.
Oops. Something went wrong. Please try again later.
EXPRESSION / LABELING:
| | |
| --- | --- |
| Genes: | |
| Fish: | |
| Anatomical Terms: | |
| Stage: | Prim-5 |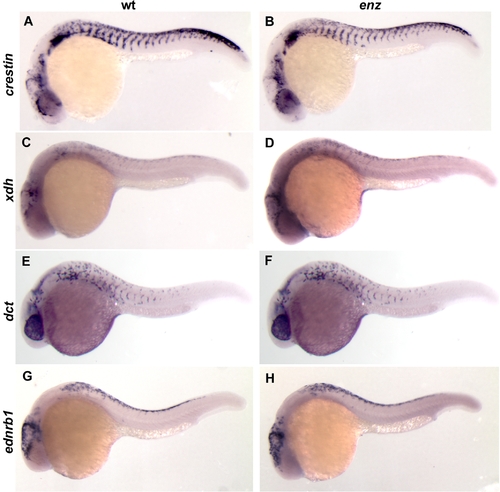 Fig. 4 The numbers and distribution of chromatophore precursors appear normal in enz homozygotes at 24 hpf.
Lateral views of 24 hpf wild-type (A, C, E, G) and enz mutant (B, D, F, H) embryos. Early neural crest cells (crestin; A, B), xanthoblasts (xdh; C, D), melanoblasts (dct; E, F) and all chromatophore precursors (ednrb1; G, H) are all qualitatively normal at this stage.
Antibody Labeling Details
No data available
Phenotype Details
No data available
Acknowledgments:
ZFIN wishes to thank the journal PLoS One for permission to reproduce figures from this article. Please note that this material may be protected by copyright. Full text @ PLoS One