ZFIN ID: ZDB-FIG-080715-12
EXPRESSION / LABELING:
| | |
| --- | --- |
| Genes: | |
| Fish: | |
| Knockdown Reagent: | |
| Anatomical Term: | |
| Stage: | 20-25 somites |
PHENOTYPE:
Fish:
Knockdown Reagents:
Observed In:
Stage Range:

Prim-5

to

Long-pec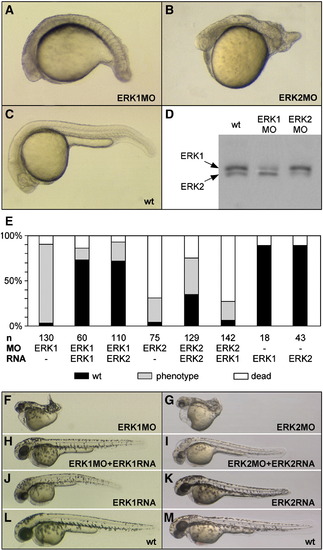 Fig. 1 Specific ERK1 and ERK2 knockdown by morpholino injection. (A–C) Images show representative examples of the ERK1 (A) or ERK2 (B) knockdown phenotypes at 24 hpf, compared to wild type (wt) embryos (C). (D) Specific knockdown was confirmed by Western blot analysis optimized to discriminate between the sizes of ERK1 (p44MAPK) and ERK2 (p42MAPK) protein and detected with global ERK antibody (D). Protein samples were isolated from 20 hpf embryos, injected with 0.2 mM ERK1MO or ERK1MO. (E) Statistics of ERK knockdown and (cross-) rescue experiments determined by co-injection of ERK1 or ERK2 morpholino with synthetic erk1 or erk2 mRNA at 24 hpf. Black = wild type; gray = phenotype; white = dead. (F–M) Images show phenotypes of surviving knockdown embryos at 48 hpf (F, G), embryos rescued by co-injection of corresponding mRNA (8pg erk1 RNA, 1.5pg erk2 RNA) (H, I), embryos injected with mRNA only (J, K) and wild type embryos at 48 hpf (L, M).
Antibody Labeling Details
No data available
Acknowledgments:
This image is the copyrighted work of the attributed author or publisher, and ZFIN has permission only to display this image to its users. Additional permissions should be obtained from the applicable author or publisher of the image.

Reprinted from Developmental Biology, 319(2), Krens, S.F., He, S., Lamers, G.E., Meijer, A.H., Bakkers, J., Schmidt, T., Spaink, H.P., and Snaar-Jagalska, B.E., Distinct functions for ERK1 and ERK2 in cell migration processes during zebrafish gastrulation, 370-383, Copyright (2008) with permission from Elsevier. Full text @ Dev. Biol.