ZFIN ID: ZDB-FIG-070802-25
Plaster et al., 2007
- REREa/Atrophin-2 interacts with histone deacetylase and Fgf8 signaling to regulate multiple processes of zebrafish development. Developmental dynamics : an official publication of the American Association of Anatomists 236(7):1891-1904
Full text @ Dev. Dyn.
EXPRESSION / LABELING:
| | |
| --- | --- |
| Genes: | |
| Fish: | |
| Anatomical Terms: | |
| Stage: | Long-pec |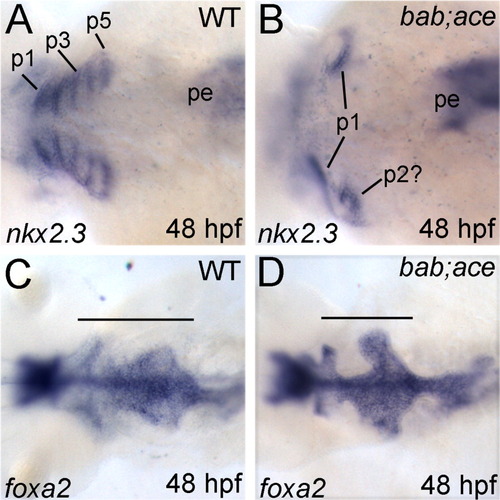 Fig. 7 rerea and fgf8 interact during formation of the endodermal pouches. A-D: All panels show dorsal views, with anterior to the left, of whole-mount in situ hybridizations of wild-type (A,C) and bab;ace (B,D) embryos. Probes are shown in the lower left corner, whereas stages are in the lower right. Combined disruption of rerea and fgf8 leads to loss of the posterior endodermal pouches as seen by nkx2.3 expression (A,B) while medial endoderm (foxa2) remains (C,D). Horizontal bars (C,D) mark the anterior-posterior extent of the pharyngeal endoderm. p1-5, endodermal pouches 1-5; pe, posterior endoderm.
Antibody Labeling Details
No data available
Acknowledgments:
ZFIN wishes to thank the journal Developmental dynamics : an official publication of the American Association of Anatomists for permission to reproduce figures from this article. Please note that this material may be protected by copyright. Full text @ Dev. Dyn.