ZFIN ID: ZDB-FIG-070613-41
PHENOTYPE:
| | |
| --- | --- |
| Fish: | |
| Observed In: | |
| Stage: | Prim-5 |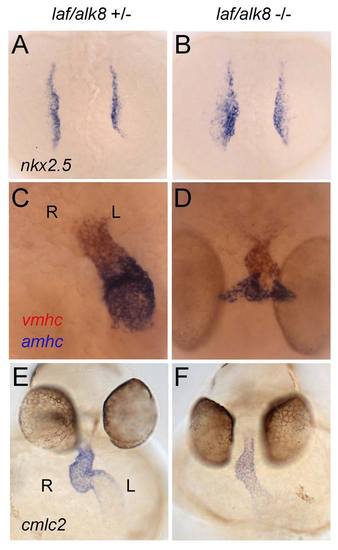 Fig. S1 Comparable nkx2.5 expression in laf/alk8 siblings (A) and mutant (B) embryos at the 15-somite stage. Heart tube in laf/alk8 siblings jogs to the left (C) while it remains in the middle in mutant embryos (D). Embryos at 28 hpf double stained with vmhc (red color) and amhc (blue color). laf/alk8 sibling (E) and mutant (F) embryos show absence of cardiac looping in the mutant embryo. (A–D) Dorsal views with anterior to the bottom of the panel. (E, F) Ventral views.
Antibody Labeling Details
No data available
Acknowledgments:
ZFIN wishes to thank the journal Developmental Biology for permission to reproduce figures from this article. Please note that this material may be protected by copyright.

Reprinted from Developmental Biology, 305(2), Chocron, S., Verhoeven, M.C., Rentzsch, F., Hammerschmidt, M., and Bakkers, J., Zebrafish Bmp4 regulates left-right asymmetry at two distinct developmental time points, 577-588, Copyright (2007) with permission from Elsevier. Full text @ Dev. Biol.