ZFIN ID: ZDB-FIG-051221-2
Chen et al., 2005
- Loss of function of def selectively up-regulates {Delta}113p53 expression to arrest expansion growth of digestive organs in zebrafish. Genes & Development 19(23):2900-2911
Full text @ Genes & Dev.
EXPRESSION / LABELING:
| | |
| --- | --- |
| Genes: | |
| Fish: | |
| Knockdown Reagent: | |
| Anatomical Terms: | |
| Stage: | Long-pec |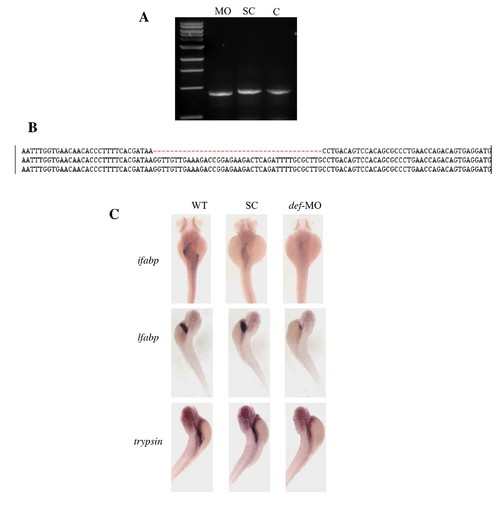 Fig. S3 def-MO caused hypoplastic digestive organs as that observed in the defhi429 mutant. (A,B) def-MO (5′-ATGAATATAATGACTTACCAAGCGC-3′) was designed to target the splice junction between exon 2 and intron 2. RT-PCR analysis showed that def-MO created an aberrant frame-shift transcript (A) due to 40 bp deletion in the exon 2 (B). (MO) def-MO; (SC) standard control morpholinos; (C) wild type contol. (C) def-MO morphants were examined with intestinal marker ifabp, liver marker lfabp and pancreas marker trypsin, respectively. 19/27 (70.4%) morphants showed hypoplastic intestine tube (ifabp); 35/47 (74.5%) for liver (lfabp), and 50/56 (89.3%) for pancreas (trypsin).
Antibody Labeling Details
No data available
Phenotype Details
No data available
Acknowledgments:
ZFIN wishes to thank the journal Genes & Development for permission to reproduce figures from this article. Please note that this material may be protected by copyright.

In addition, ZFIN would like to thank the authors for kindly granting us permission to reproduce their figures.

Full text @ Genes & Dev.